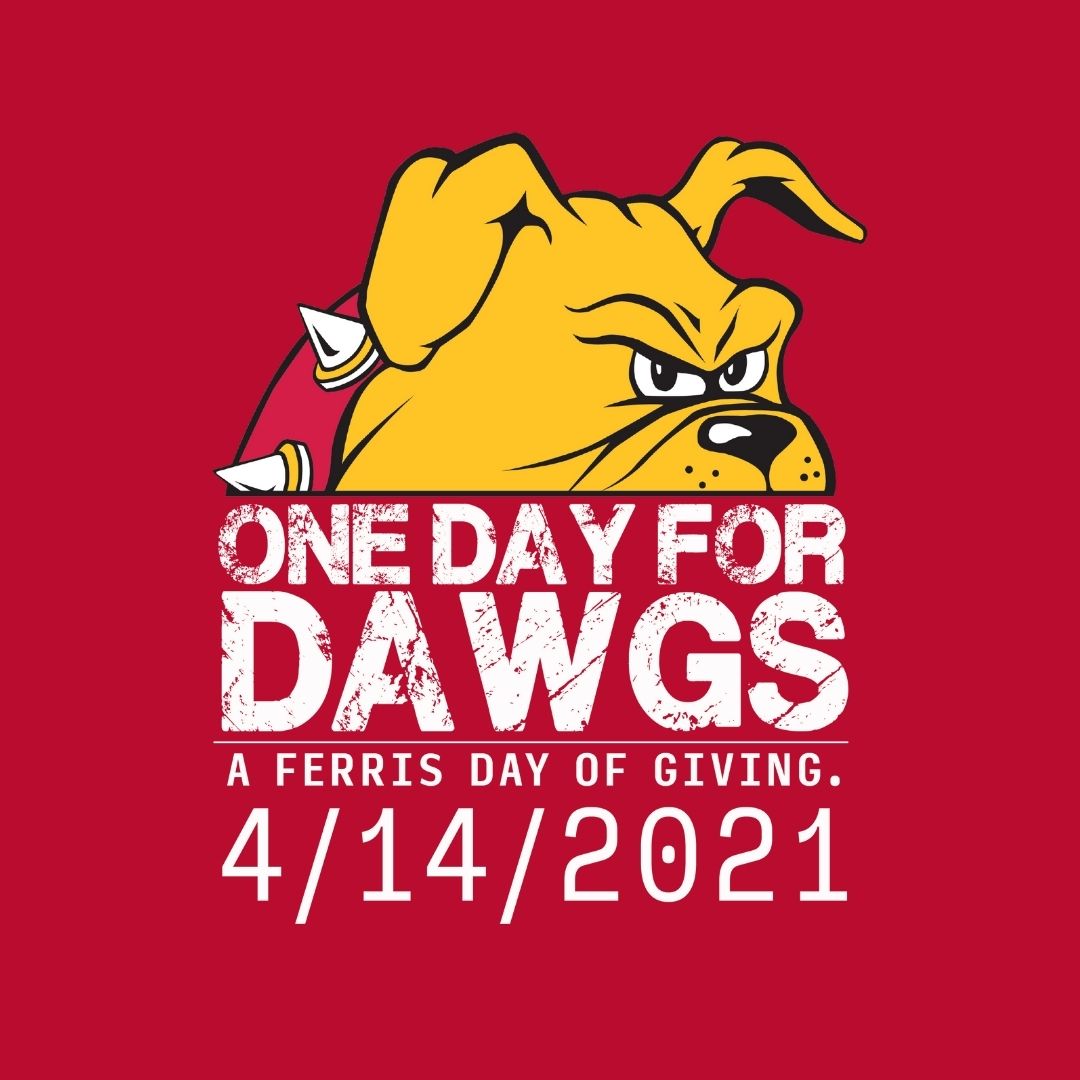 University Advancement and Marketing and The Ferris Foundation are preparing to host Ferris State University's third giving day, One Day for Dawgs, a 24-hour fundraising drive, on Wednesday, April 14.
The COVID-19 pandemic caused the postponement of the 2020 One Day for Dawgs event. The focus quickly shifted to promoting the Student Hardship Fund during the Spring 2020 semester, early during the pandemic. Advancement Communications Specialist Megan Eppley said UA&M's team has engaged in outreach and education since then, with dozens of teams prepared to gather resources on Wednesday, April 14, for scholarships, technology, equipment and other needs.
"We are encouraged by several new teams that are looking to benefit their department or operation with collaborative work on communication plans, team-building and establishing a social media presence for their campaigns," Eppley said. "Our office has a fundraiser toolbox with sample messages and a communication plan to aid each team as they navigate this campaign, creating the opportunity for philanthropy and celebration of Ferris' mission and the Bulldog experience."
Eppley added that the Advancement team can help partners achieve success during One Day for Dawgs.
"We are confident in each campaign and will do what it takes to make them successful," Eppley said. "One Day for Dawgs is a wonderful chance to connect with students, alumni and supporters of the university while celebrating and supporting the causes and segments of the university that can have a significant impact on Ferris' students now and in the future."
Groups or departments still interested in establishing a campaign as part of One Day for Dawgs should contact Megan Eppley by March 24 via email or call (231) 349-1822. For more information about how people can support their cause or make a gift on Wednesday, April 14, visit the One Day for Dawgs website, or text ODFD to 71777. For updates on One Day for Dawgs, follow the Ferris Foundation on Facebook or Instagram.