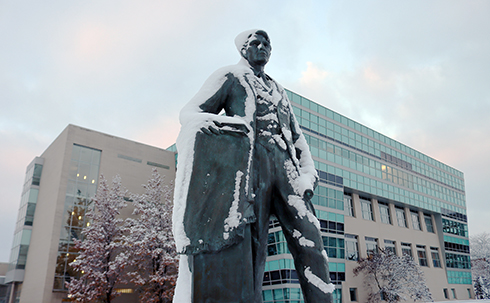 Wintermester, an immersive online learning program for Ferris State University students is being offered from Monday, Dec. 20, 2021, to Friday, Jan. 7, 2022.
Students desiring to add credits in general education or classwork specific to their Ferris State University major have their opportunity during Wintermester, an immersive online learning program offered for a fourth year from Monday, Dec. 20, 2021, through Friday, Jan. 7, 2022.
Wintermester classes are 100-to 400-level sections, generally in three-to four-credit offerings. Thirty-one classes are available to students this year. Extended and International Operations Director of Marketing and Admissions Jennifer Amlotte said registration began on Monday, Oct. 25, for those sections with the prospect of adding more based on student interest.
"We have enjoyed success filling sections. Each year, more classes are being offered as students become more familiar with this condensed option," Amlotte said. "Those who have earned credits through Wintermester are pleased with the opportunity to advance toward their degree. We offer students high-demand classes in a fast-paced, defined format."
The staff in eLearning, part of Extended and International Operations, indicate with the three-week schedule for this Wintermester, students should expect daily contact, interaction and the likelihood of assignments from their instructor.
"Some students have told us they find a greater ability to focus on the single class during this time," Amlotte said. "Those students still interested in registering, who find that a desired class section is closed can learn more about joining a waitlist, online."
Amlotte added that Wintermester is considered part of the spring semester, which can be a consideration for a student's financial aid eligibility. More information is available online.