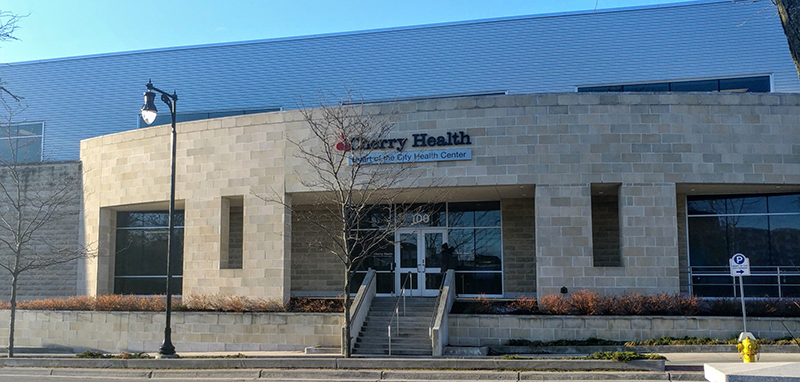 Above is an exterior photo of Cherry Health. Ferris State University's longstanding partnership with Cherry Health recently included the donation of 200 ear protectors to help the health center's staff during the COVID-19 pandemic. Below are images of how the ear protectors look and work. Demonstrating the ear protectors is Ferris' Corporate and Foundation Grants Manager Kara Eagle.


GRAND RAPIDS – Ferris State University's longstanding partnership with Cherry Health is as strong as ever. That spirit of collaboration was particularly evident on Thursday, April 9. Ferris' COVID-19 Community Response Team delivered 200 ear protectors to Cherry Health,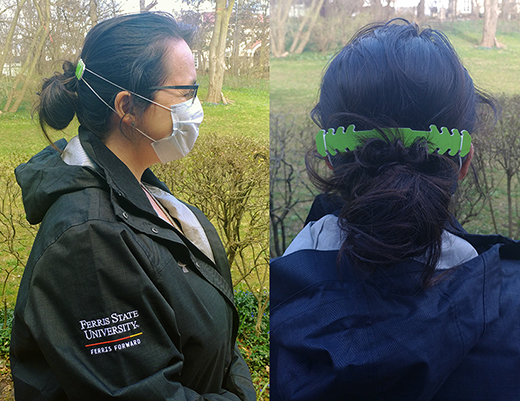 an independent, nonprofit federally qualified health center that focuses on high-quality health services to people with little or no access to healthcare.
"It makes me appreciate the strong partnership we enjoy with Ferris even more. Those supplies mean so much to staff," said Dr. Leslie Pelkey, Cherry Health's chief medical officer, of the ongoing collaboration between the partners. "From the bottom of my heart, thank you."
The ear protectors were laser cut by Brian Pacholka, the laboratory facilities coordinator in the Ferris College of Engineering Technology's School of Design and Manufacturing. The equipment will be used by Cherry Health staff to stop irritation behind the ears of team members who are now wearing protective masks for a full shift.
The Ferris Grand Rapids Council and Ferris President David Eisler plan to honor Cherry Health and its CEO Tasha Blackmon as the university's 2020 Growing Opportunity Partner honoree. However, due to the restrictions brought on by the COVID-19 pandemic, the planned May 13 in-person event will shift to a celebration hosted via digital communication and social media. The event will include a series of inspirational videos, emails and social media posts designed to highlight the genuine collaboration between Cherry Health and Ferris.
The timing of the Cherry Health donation, including the work that created the protective equipment, could not have been better.
"For more than 15 years, Cherry Health has partnered with Ferris to prepare the very health care workforce now facing this pandemic head-on in West Michigan," said Barbara Benda, Ferris' executive director of leadership giving and relationships, in the Grand Rapids region. Benda, who is also associate director of The Ferris Foundation, added, "We have prepared for this moment, together, and we will continue to fight through it together."
Ferris' third annual Growing Opportunity event showcases the university's work with Cherry Health to change lives through innovative collaboration to improve the health and welfare of area families. Event proceeds are matched 1:1 in support of Ferris' West Michigan Opportunity Scholarship Fund, which benefits college scholarships for local students.


Growing Opportunity 2020 Major Donors and Sponsors
The Meijer Foundation
Feyen Zylstra
Kennari Consulting
Lacks Enterprises, Inc.
Mercantile Bank of Michigan
Plante Moran PLLC
Spectrum Health
Andy J Egan Co., Inc.
Cherry Health
Ernst & Young
Grand Rapids Public Museum
Grand Rapids Community College
Jim & Jeanne Giroux
HNI Risk Advisors
JK Elder & Associates
Lake Michigan Credit Union
Susan K and William T Jones
Click Growing Opportunity for more information.