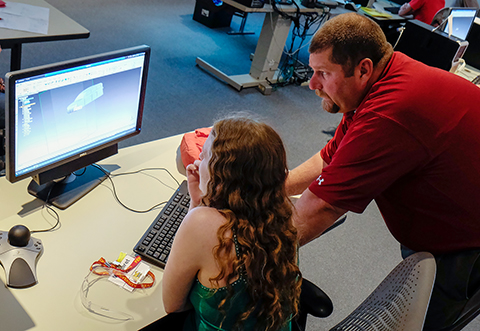 An active group of teenagers pulled up to computer stations in a fifth-floor classroom of Ferris State University's Swan Building on Tuesday, July 17, a most familiar sight for CAD, Drafting and Tool Design Professor Dan Wanink. He was leading an afternoon session of the Design and Manufacturing Academy, an academic summer camp he helped to create at Ferris more than a decade earlier.
"To my knowledge, Brad Isler and his Biotechnology camp and I were the first to offer academic camps," Wanink said. "There are many camps for kids interested in fine arts or sports but limited offerings in technology. I am proud of the efforts I made to start a summer program of this type with the assistance of Carole Kamp, who was director of Conferences and Programs at that time. In working with the Office of Extended Learning, we developed a unique, week-long program to engage young people in several areas of engineering technology. I was interested in those kinds of things when I was a high schooler, but did not know of any opportunity to do something like this, and believed there were youngsters who would take the opportunity to learn about technology during their summer break."
Academic camps, all things considered, have been successful.
"Despite initial concerns about the amount of interest in an academic camp, the idea has turned out to be successful, as there is a steady flow of students who have either found us in online searches, high school teachers or were informed about the camp by word of mouth," Wanink said. "We have regularly had students from Indiana, Ohio and Wisconsin attend our sessions. We've had them from as far as Texas and New York, along with a consistent response from within the state of Michigan."
Wanink said he could not cite each case where a Design and Manufacturing Academy student decided they would be attending Ferris, but was confident that the opportunity to explore and experience technology in these summer sessions was well received.
"A good example is James Shepard, whose father, Ed, is a Ferris staff member, came to camp, then eventually entered the CAD Drafting and Tool Design program," Wanink said. "James was also selected as our Outstanding Student in the program this past year. "This year, some of our students indicated the academy was their way of getting ready to be First Robotics competitors, during their school year."
Students were excitedly operating 3D scanners as their CAD session wrapped up that afternoon.
"There's a great deal of enthusiasm for learning and energy that these students bring as participants in the academy," Wanink said. "The week is a fun week but extremely busy as students are busy with planned activities for 7 a.m. to 9:30 p.m., and I'm glad that the sessions come in the summer."
Wanink also said the collaborative efforts of CET faculty and the underwriters of the academy are crucial to its continued success.
"The contributions made by the programs of CAD Drafting Tool and Design, Welding, Plastics, Mechanical Engineering and Manufacturing Engineering give the academy students a well-rounded experience," Wanink said. "We are fortunate to have Robert Schulte, with Hi-Tech Mold and Engineering, as a sponsor of our camp. Sponsorships from industry have a significant and positive impact on the cost of presenting a quality program for these students."
To learn more about this summer camp visit the summer academic camps web page.


PHOTO CAPTION: Students put 3D scanners to work and learned about many areas of Ferris State University's College of Engineering Technology during the Design and Manufacturing Camp, which was offered Sunday, July 15 through Friday, July 20 in the university's Swan Annex and other CET buildings.