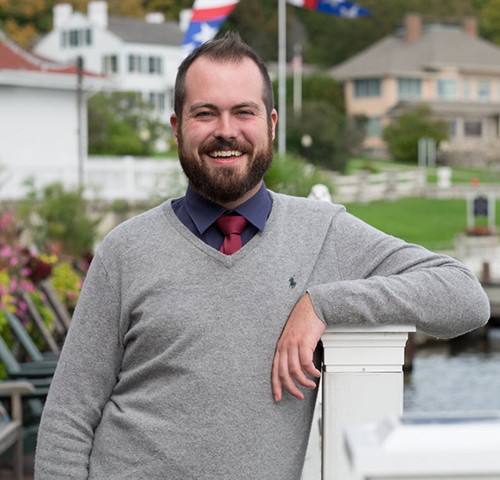 The second annual Ferris Family and Friends Weekend on Mackinac Island Friday, Oct. 13 through Sunday, Oct. 15 will present an opportunity to explore the historic resort community, in the company of fellow graduates.
Alumni Relations Director Brandi Behrenwald said the response to last year's event, on the island, exceeded expectations. The office has high hopes for participation, in October, with their event to be based at the Chippewa Hotel Waterfront.
"We were so happy to enjoy the company of around two dozen of our alumni and family members," Behrenwald said. "As soon as we announced we would be hosting this event, again, there was significant interest in being part of the fun."
Some amenities in the accommodations include round-trip ferry passage to Mackinac Island, two nights lodging, one-hour bike rental, a drink-voucher package at the iconic Pink Pony Bar and Restaurant, capped with a complimentary slice of fudge. Behrenwald said Bart Berkshire, the manager of Chippewa Hotel Waterfront and Lilac Tree Suites and Spa, is a 2010 alumnus of Ferris' College of Business. Berkshire assembled their package deal.
"What we have gained, with Bart's assistance, is a great value for our alumni," Behrenwald said. "Anyone interested can register for the event while space is available. We will host a welcome reception, which will provide everyone a chance to eat, drink and socialize with the rest of the group, and prepare for the weekend. We hope to be enjoying the peak of fall colors during our visit."
Behrenwald said the Alumni Association is pleased to have the opportunity to offer an event that encompasses a weekend, so their guests can have a well-rounded experience.
"The pace on Mackinac Island is a little easier during the fall," Behrenwald said. "Those attending will see groups of alumni in their Ferris gear heading out on the town for dinner. Some will be with their children, organizing their own adventures. It's a beautiful resort, and we look forward to continuing a tradition of gathering with our friends in this fashion."


PHOTO CAPTION: Ferris State University's Alumni Association will return to Mackinac Island Friday, Oct. 13 through Sunday, Oct. 15 for their second annual Family and Friends Weekend. Business/Resort Management alumnus Bart Berkshire, a 2010 Ferris graduate, manages the Chippewa Hotel Waterfront, where the gathering will be based.