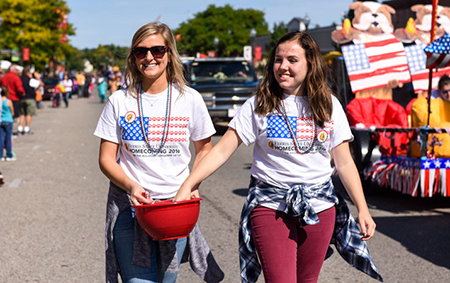 Check out the Homecoming 2017 Preview Video.
Ferris State University's 91st homecoming celebration begins Wednesday, Sept. 27, and runs through Saturday, Sept. 30. Homecoming Saturday includes various reunions in concert with the Bulldog football game against Wayne State University.
Students can vote on homecoming royalty beginning Tuesday, Sept. 26, according to Nick Smith, activities director with Ferris' Center for Leadership, Activities and Career Services.
"We are pleased to welcome students to meet our three candidates, Brooke Bewak, of Rochester Hills; Jacqueline Charette, of Newaygo; and Corey Nichols, of Holly, during a 'Meet the Royalty' event on Wednesday, Sept. 27," Smith said. "That will begin at 8 p.m., in the University Center ballroom, and we will show 'Spiderman: Homecoming,' beginning at 8:30."
Ticket sales were opened to the public Monday, Sept. 18 for the performance by actor and comedian Nick Offerman, which takes place Thursday, Sept. 28, at 8 p.m. in Williams Auditorium. Smith said they were pleased to follow up on student wishes to bring in a well-known performer for the annual comedy event at a small charge for tickets.
The annual homecoming bonfire begins at 8 p.m., Friday, Sept. 29 in Parking Lot 61, near Brophy and McNerney halls. Smith said the community is welcome to join students at that traditional event.
"We will have snacks available, games to play, our homecoming royalty and registered student organizations taking part," Smith said. "We always enjoy the support and representation offered by our athletic teams, at the bonfire, and we hope the whole community comes out to 'Unleash Your Inner Dawg.'"
More than half of the College of Pharmacy's Class of 1967 will be on hand, in celebration of its golden anniversary, with a brunch hosted by the college on Saturday, Sept. 30. That event begins at 9:30 a.m., in University Center, Room 202.
Kevin Bunce, coordinator of Alumni Relations, said Ferris' current and former students, along with community members preparing for the homecoming game, are welcomed to parking areas adjacent to Top Taggart Field beginning at 11 a.m., Saturday, Sept. 30.
"The Homecoming Committee is pleased the university's colleges are collaborating with the organizers, to bolster the experience for everyone looking to tailgate before the game," Bunce said. "The academic colleges are planning a number of cool events such as giveaways, simulation activities and a popcorn competition with a variety of seasonings."
Eight alumni and college tents will welcome guests in Lot 37 on Saturday, Sept. 30, according to Bunce.
"The Alumni Association is partnering with Monster Beverage Corporation, Liberty Mutual Insurance and the Michigan State University Federal Credit Union, the institution behind our Ferris Platinum Plus Visa card," Bunce said. "From 11 a.m., right up to game time, we will have a macaroni and cheese bar, with plans to serve 500 or more people. That includes all those who view the parade through downtown Big Rapids, which steps off at 12 p.m. that day."
Former Board of Trustees Chair R. Thomas Cook, a College of Pharmacy alumnus from Fife Lake, will be joined by his wife, Janice, serving as 2017's Homecoming grand marshals. Smith said the CLACS office welcomes registered student organizations and other groups to participate in the parade.
"Current students, the RSOs and university departments are welcome to build a float, or march as a group that day," Smith said. "We'll have a number of games and activities at the tailgate that afternoon, and RSOs will have their baskets up for auction, to benefit the United Way campaign."
The homecoming football game, against Wayne State University, kicks off at 3 p.m., and Bunce said the fun continues as the Athletics Department offers "Skate with the Bulldogs," following the Crimson and Gold hockey scrimmage, which begins at 6 p.m.
"It is a great tradition, as we bring the Big Rapids community, our students and alumni together on that Saturday," Bunce said. "'Unleash Your Inner Dawg' is our theme, and this gathering of all types of groups makes homecoming one of the major events on the annual university schedule."
Smith said current students will be welcome in the University Center for a Casino Royale event.
"At 8 p.m. on Saturday, magician Ben Seidman will be in the UC Ballroom," Smith said. "He has been on 'Penn and Teller's Fool Us,' and Ben is as funny as he is talented. At 9 p.m., we will begin the casino games, and each student gets a cup of chips. There will be a pair of Beats headphones, Dining Dollars and a variety of other prizes, so the more students win, the more raffle tickets they buy, to improve their shot at those items."
Other Saturday evening homecoming events include an Office of Multicultural Student Services Black Alumni Social, which will start at 9 p.m. in University Ballroom D of the Holiday Inn Hotel and Conference Center, and the Black Greek Council's annual party will be held in the Multipurpose Room of the Ewigleben Sports Complex, beginning at 10 p.m.


PHOTO CAPTION: Ferris State University's Homecoming has announced the theme, "Unleash Your Inner Dawg," for the 2017 schedule of events beginning Wednesday, Sept. 27. The homecoming parade will step off in downtown Big Rapids at 12 p.m. Saturday, Sept. 30, prior to the annual homecoming game, as Ferris hosts Wayne State at 3 p.m. at Top Taggart Field.