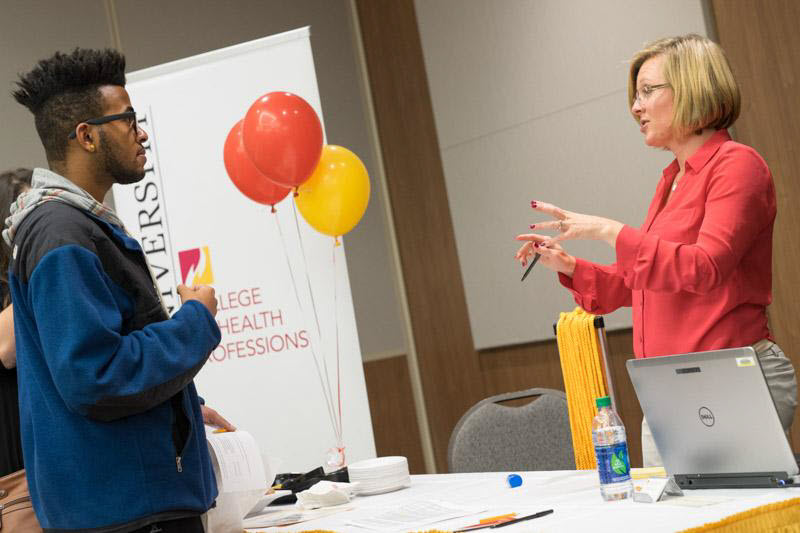 A collaborative effort of the Ferris State University Alumni Relations office, the Commencement office and the Ferris State University Bookstore is planned for Thursday, Nov. 2, when the Fall Graduation Fair will be held in the University Center.
Alumni Relations Coordinator Kevin Bunce said the "one-stop shop" concept is the goal of the campus groups organizing this event.
"We will be on hand from 11 a.m. to 4 p.m., with representation from all of the academic colleges on the Big Rapids campus, to address any final questions that students may have, while they pick up their commencement gear and tickets," Bunce said. "Around 1,000 graduates are eligible to participate in December commencement, we expect that around 700 of them will take the opportunity to participate. Four hundred to 450 new graduates are anticipated at the Grad Fair."
Student workers from University Advancement and Marketing will join with Student Alumni Gold Club members to assist those who are interested in decorating their graduation caps.
"We will have a competition, so students can design and submit their cap for consideration at that point, or at any point prior to our contest deadline," Bunce said. "A new facet of Grad Fair is the chance to make a senior gift, with members of the Annual Giving office standing ready to give out a gift package to those who contribute at least $10. That will include a cord signifying their gift, which they can wear during their commencement."
Bunce said the Graduation Fair presents the first opportunity for the Alumni Association to make contact with students who will transition to their careers, and this new relationship with the university.
"There will be alumni-branded merchandise available at Graduation Fair, which is available at any time from the Ferris State University Bookstore, thanks to online sales," Bunce said. "We just want these impending graduates to know they will always be Bulldogs in our eyes, and we look forward to our continued relationship, as they advance in their careers and lives."