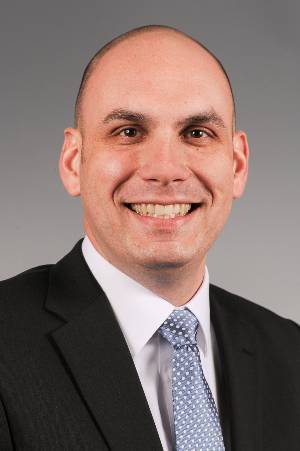 Results derived from several years of research and intervention will be reviewed at two major health care conferences this fall, with an associate professor in Ferris State University's College of Pharmacy headed to Washington, D.C. for the first presentation later this month.
David Bright will be presenting with David Hartzell of CareSource, a Dayton, Ohio-based managed care nonprofit and Krystalyn Weaver of the National Alliance of State Pharmacy Associations at the Medicaid Health Plans of America (MHPA) conference Oct. 29-31. Their panel session is titled "Using Pharmacists to Improve Health Outcomes: A Case Study in Maternal and Infant Health," which will address medication therapy management and the team's preconception care project, as part of the innovation track at the conference.
"Our presentation offers some of the early results of our research," Bright said. "We have more than 2,000 community pharmacists in Ohio offering support to more than 30,000 women of child-bearing age. These pharmacists support patients, by providing them education related to medication that may cause fetal harm, along with information on folic acid use, and immunizations."
The research began with grant support from the Community Pharmacy Foundation of Chicago, Illinois. Bright said their work continued as CareSource joined with CPF to fund the study, and more recently, the nonprofit has developed related interventions, as a standard of care. The foundation has continued its support of this work, through travel grants to members of the research team.
"This is allowing pharmacists to offer additional care to more people, who can benefit from their skills," Bright said. "It is a long-term intervention, which we hope has positive outcomes for families in CareSource's service area."
A week later, at the American Public Health Association (APHA) conference in Atlanta, Georgia, the team will be represented by Natalie DiPietro Mager, an associate professor of Pharmacy Practice at Ohio Northern University, in Ada, Ohio, and Lindsay Weis, of Outcomes MTM, a Cardinal Health eCompany based in West Des Moines, Iowa. Their presentation is titled "Development, Implementation and Assessment of a Pharmacist-Provided Preconception Care Initiative," as part of a session organized by the Pharmacy Special Primary Interest Group of APHA titled "Pharmacists Serving Vulnerable Populations."
Dani Markus of Outcomes MTM and Jim Gartner of CareSource are the other members of this collaborative research team.
PHOTO CREDIT: Associate professor of Pharmacy David Bright, a member of Ferris State University's faculty in the College of Pharmacy will be a presenter at the Medicaid Health Plans of America Conference in Washington, D.C. The conference begins Sunday, Oct. 29 and continues through Tuesday, Oct. 31. Bright has assisted research in the pharmacist's role in advising women of child-bearing age on medications and maternal health issues.