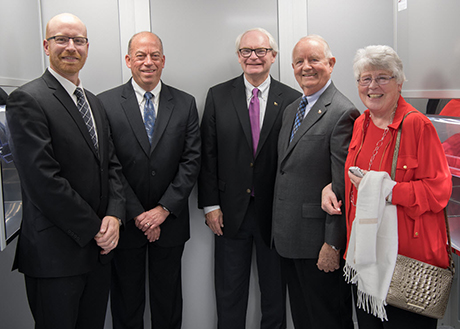 Ferris State University's College of Pharmacy will provide its students instruction in sterile compounding in a state-of-the-art facility, in its Hagerman Pharmacy Building, thanks to the generosity and resourcefulness of a 1964 program alumnus.
College of Pharmacy Assistant Professor Mark Young said the Dr. Roger W. and Betty Anderson Clean Room and Educational Center, made possible through the Andersons' $100,000 gift, is only the second such operation now available to pharmacy students studying in the U.S.
"Dr. Anderson reached the M.D. Anderson Center at the University of Texas, in 1978, when he was appointed its director of pharmacy," Young said. "He became the vice president of pharmacy, at the center, which is one of the most renowned cancer research and treatment facilities in the country. The financial contribution Dr. Anderson and his wife, Betty, have made for renovations, and their support in securing in-kind contributions of clean room technology from Qlean Air, a Swedish manufacturer, places Ferris, and our College of Pharmacy, out front in terms of instructional opportunity."
Young said Anderson, a former president of the American Society of Health System Pharmacists, collaborated with the manufacturer, and the hands-on instruction now available through Ferris' College of Pharmacy will benefit students through an increased ability to support health systems in the production of compounded medication.
"A pharmacy is the only operation that can do sterile compounding," Young said. "Many schools turn to online or simulated sterile compounding instructional programs, but nothing beats a student feeling the filtered air and practicing their skills under these new hoods. We will also now be able to offer this instruction to 12 students at a time. Prior to this, using hoods that had been donated by a regional health system some time ago, we could only accommodate 10 students per lab. Since there are 35 students in a section, this new arrangement means we can complete our training by assembling three groups instead of four."
Young said students will be in gowns and gloves when they enter the Anderson Clean Room, which duplicates the conditions they would experience in the production of compounding sterile medications in the Pharmacy operation of a health system.
"The air in the Clean Room is circulated through a HEPA (High Efficiency Particulate Air) filter twice over, and is filtered again by the hoods over each compounding station," Young said. "The implementation of sterile compounding in a student's learning process has become a high priority, and this facility will also benefit research in sterile products, which will be done at our College of Pharmacy."
Anderson and his wife were joined by Provost and Vice President for Academic Affairs Paul Blake, College of Pharmacy Dean Stephen Durst, Qlean Air Scandinavia Inc. USA President Brad Ballantine and Young in a ribbon-cutting ceremony for the Clean Room on Thursday, Nov. 9.


PHOTO CAPTION: (left to right) Ferris State University College of Pharmacy Assistant Professor Mark Young, Qlean Air Scandinavia, Inc. President Brad Ballantine, College of Pharmacy Dean Stephen Durst, College of Pharmacy alumnus Dr. Roger W. Anderson and his wife, Betty are shown in the Clean Room, following a ribbon-cutting ceremony for the facility on Thursday, Nov. 9. The Andersons made a $100,000 contribution to renovate an area in the Hagerman Pharmacy Building, and arranged for an in-kind equipment donation from Qlean Air.