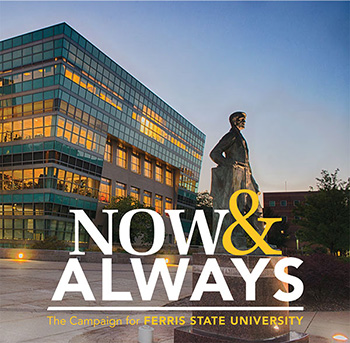 On Thursday, Nov. 9, members of the Ferris State University community gathered at the University Center in Big Rapids as university leaders publicly launched Now & Always: The Campaign for Ferris State University, the university's first comprehensive fundraising effort in its 133-year history.
The multi-year campaign aims to engage alumni, friends, and other supporters to raise $80 million to advance three major priorities: Investing in Students, Program Expansion and Innovation, and Building Partnerships.
"As a career-oriented, career-centered university, we are very responsive to the needs of business and industry," said Ferris President David Eisler. "Our curriculum needs to be cutting-edge, preparing our students to think globally. This provides a competitive advantage, graduating students who are uniquely equipped for a changing world."
The first priority, Investing in Students, will build a $36-million endowed fund for student scholarships through the Ferris Futures Scholarship Challenge. This initiative matches gifts to new and existing endowments dollar-for-dollar allowing donors to name new endowments with gifts of $12,500 or more through 2022.
"The financial barriers that our students face are significant," Eisler said. "We are committed to keeping a Ferris education affordable. We cannot be a university dedicated to quality education for all and not make this accessible for all."
Now & Always campaign co-chair Gary Granger said the scholarship challenge program allows donors to make pledge payments over a five-year period.
"This allows a larger number of people to invest in Ferris' students, helping them to meet the financial realities of higher education," Granger said. "Since the challenge began in July 2016, we have received nearly 180 gifts and pledges to new and existing endowments, creating nearly $7 million in new scholarship support for Ferris students."
The campaign seeks to raise $44 million for the second priority, Program Expansion and Innovation, to support new and renovated facilities and new programmatic initiatives.
Campaign co-chair Jeff Rowe said intended facility improvements funded by the campaign include construction, expansion or renovation of facilities that will maximize quality of instruction in distinctive programs at Ferris, such as the Swan Annex to benefit Welding and Manufacturing programs, along with the Hagerman Pharmacy Building, and the Ken Janke Sr. Golf Learning Center, that will elevate the Ferris PGA Golf Management Program and serve as the new home of the Michigan Golf Hall of Fame.
"It says that you are paying attention to what's going on, you know what needs to be done, and you are changing to take on these challenges," Rowe said. "We have a great reputation in many of our spotlight programs, but I think Now & Always will spread that message out across the state, and the Midwest."
President Eisler added that the planned expansion of strength and conditioning facilities at the Ewigleben Sports Complex, creating a new Center for Athletics Performance, will help Bulldog athletic teams continue to attain exemplary success.
"These projects build on areas of excellence, and create new standards of expectations at Ferris," Eisler said. "This campaign will change Ferris in ways that are both special and meaningful."
Programmatic funding initiatives span across all of the University's colleges and include an updated Criminal Justice Training Center, an Institute for Mobile Health and Technology, and a new Center for Academic Literacies.
Provost and vice president for Academic Affairs Paul Blake said he is excited about the Center for Academic Literacies, which will help address students' academic challenges more comprehensively.
"Everybody hits particular points in their academic careers where there is a roadblock," Blake said. "They have not found their way to success. The center will serve a broad spectrum of students, from those who may have multiple academic challenges to those with very few, who just need help getting past the walls they hit in particular content areas."
The third priority, Building Partnerships, will increase Ferris' support for its more than 100 community, industry, nonprofit and educational partnerships in the region. Planned efforts in partnership with others include the realization of a Center for the Community in Southwest Grand Rapids' Plaza Roosevelt, along with expansion of the university's outreach to Latino communities in West Michigan. The campaign also will generate resources to support new and continuing partnerships in Grand Rapids and other communities across West Michigan.
Granger added that this endeavor is not solely an appeal to those who care about the university and its leadership role in Michigan or the Midwest. He believes Now & Always allows Ferris to continue its outreach and highlight the partnerships the university has developed in Grand Rapids and other communities.
"This is a good time for Ferris to be embarking on this kind of a program," Granger said. "In my opinion, it changes the culture of Ferris. Our opportunity is to ask our community, 'How can we better serve you?'"
Rowe encouraged all stakeholders and supporters of Ferris to consider the opportunity before them, and how they might help the university achieve its goals in this first comprehensive campaign.
"There are a lot of great things going on at Ferris today, and I think we stand at a turning point here," Rowe said. "Now & Always offers all of us the chance to continue to deliver excellence, to make the university ready for the next 100 years."
President Eisler offered his appreciation to the Now & Always campaign cabinet, including Paul Boyer of Ada, Douglas Dommert of Kalamazoo, Philip Hagerman of Flint, Stephanie Leonardos of Grand Rapids, Dennis Nickels of Grand Haven, Vivian Rogers Pickard of Bloomfield Hills, faculty emeritus Bob Friar and faculty emeritus Robert Carter, both of Big Rapids, for their leadership and generous support of the campaign.
He noted that the campaign would not be possible without the full support of the university's Board of Trustees, volunteer leaders of The Ferris Foundation Board of Directors and the Ferris Alumni Association Board, and support from Ferris faculty, staff and students.
"I encourage every alumnus, every supporter, and the entire Ferris community to help make a difference for our students, for our faculty, for our academic programs, and for Michigan," Eisler said. "Now is the time to shape and support the future of Ferris State University."
The Now & Always campaign was the focus of discussion and celebration for members of The Ferris Foundation Board of Directors and their guests at the 19th annual Ferris Foundation for Excellence Benefit on Friday, Nov. 10, in the DeVos Place Convention Center in Grand Rapids. The benefit's program featured special guest Olympic gymnast Aly Raisman who was interviewed by WOOD/WOTV media personality Maranda.
More information on the Now & Always campaign is available online.


PHOTO CAPTION: Now & Always: The Campaign for Ferris State University, the first comprehensive campaign in the 133-year history of the university entered its public phase on Friday, Nov. 9, with a ceremony and celebratory event held in Ferris' University Center.