Ferris State University is extending an invitation to a launch celebration of its major fundraising campaign.
Ferris and The Ferris Foundation look forward to meeting as many people as possible for this historic announcement launching the University's first-ever Now and Always comprehensive fundraising campaign.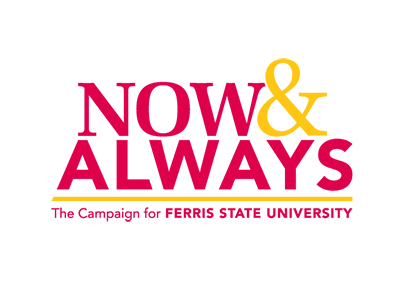 Here's a snapshot of the event:
University Center Ballrooms
Thursday, Nov. 9
11 a.m. Program
12 to 2 p.m. Celebration
The program will feature President David Eisler and Campaign Co-Chairs Gary Granger and Jeff Rowe, who will share details on the campaign's theme and goals, recognize key campaign donors, and present campaign promotional materials, including a special feature video about the campaign's impact on the University.
A celebration throughout the University Center will immediately follow the program and go until 2 p.m., with free food, live entertainment, games, and giveaways including special campaign-branded accessories.
All students, faculty, staff and community members are invited to attend and enjoy this free, fun-filled celebration. No RSVP is necessary.
For more information, or for anyone needing special accommodations to attend this event, contact Jennifer Njenga, stewardship and donor relations coordinator, at [email protected] or (231) 591-2391.