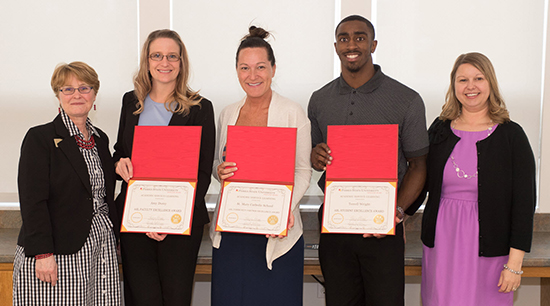 PHOTO CAPTION: Recipients of the Academic Service Learning Awards are shown, above, with co-coordinators Lianne Briggs, left, and Dr. Sarah Hinkley, right. Beginning second from the left, between Briggs and Hinkley, are: Amy Dorey, recipient of the Faculty Excellence Award; St. Mary Catholic School Board Chair Tracie Tacia, accepting the Community Service Award on behalf of St. Mary, of Big Rapids; and Terrell Wright, recipient of the Student Excellence Award.

Ferris State University's Academic Service Learning Program honored a student, faculty members and a local school at its annual awards ceremony, hosted on Monday, April 24 in Big Rapids.
Honored by the ASL were: St. Mary Catholic School, of Big Rapids, with the Community Partner Excellence Award; Terrell Wright, recipient of the Student Excellence Award; Amy Dorey, who received the Faculty Excellence Award; and Wendy Samuels, who was recognized with the Service Recognition Award.
Academic Service Learning is a method of teaching that allows students to connect, and thus learn more deeply, the concepts, skills and other course content with needs and goals of community organizations and agencies. Students, through this deeper connection, learn from and provide meaningful service to the agency or community.
Listed below are the award winners, criteria for their awards and a synopsis of their work: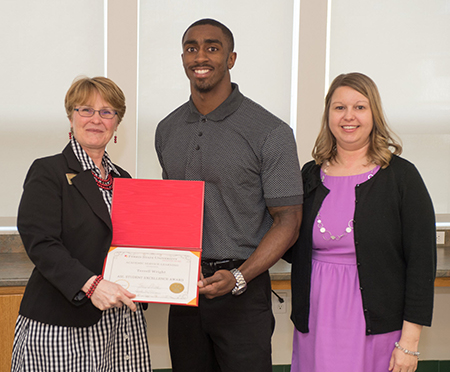 Wright, from Mount Clemens, received the Student Excellence Award for his leadership in Sports Communication (COMM 389) projects. Wright captained the classes' work to promote "Heart to Heart, Hand in Hand," a basketball exhibition game to benefit the Special Olympics program, and was assistant chair for efforts to support "Red Out the Wink and the Rink," a fundraising event for Spectrum Health-Big Rapids Hospital's Cardio Rehab Unit. Wright was nominated for the award by Sports Communication Program Coordinator Sandy Alspach, who described his contributions as "professional" and "punctual."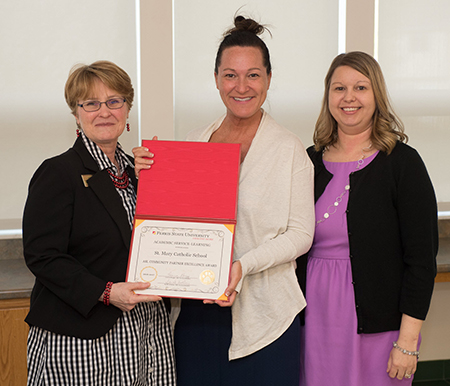 St. Mary Catholic School, of Big Rapids, was named winner of the Community Partner Excellence Award. School administrators and teachers worked with Michigan College of Optometry Developmental and Behavioral Optometry students, who screened youngsters with academic struggles, to determine their strengths and potential issues with visual aspects of learning. MCO students explored aspects of pediatric optometry and the school was able to offer parents information on the testing while utilizing the information at the administrative and instructional levels.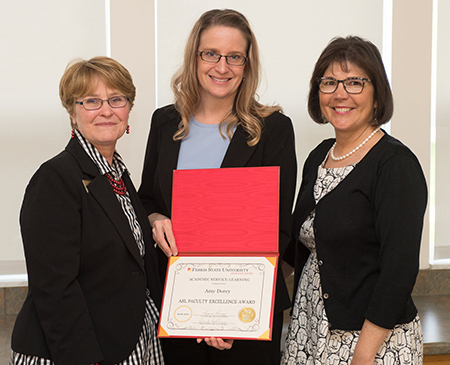 Hospitality Management Assistant Professor Amy Dorey received the Faculty Excellence Award. Dorey was honored for her work with Ferris' women's soccer team which, in cooperation with Team IMPACT, organized fundraising to support Morgan Franklin, a preteen who suffers from Linear Morphea, along with promoting civic awareness of that disease. Dorey collaborated with ASL and Television and Digital Media Production program to create a video that highlighted the cause and the program. Her Event Management-1 class also teamed with area nonprofit organizations for ASL projects such as "Dunk Your Dog/Toss Your Teddy" to support the Salvation Army, the Big Rapids Public Library's "Authorapalooza" event and the Angels of Action "Bowl-A-Thon."
Social Work Professor Wendy Samuels, co-coordinator of ASL at its inception, in 2009, was also given the program's Service Recognition Award. Samuels was instrumental in launching the ASL Project at Ferris, in 2009, and served as one of the first co-coordinators. She has been a strong supporter of ASL across campus and in the Social Work program where many ASL projects originate. Samuels has been a big advocate for ASL throughout the years.
The mission of ASL is to promote and support faculty and student engagement in academic service learning to achieve course learning outcomes, respond to the needs of the community partners, and foster a lifelong commitment to service. We envision a university where students practice the knowledge and skills gained in the classroom in ways that are responsive to community needs and cultivate a life-long commitment to service.
Click Academic Service Learning to learn more.