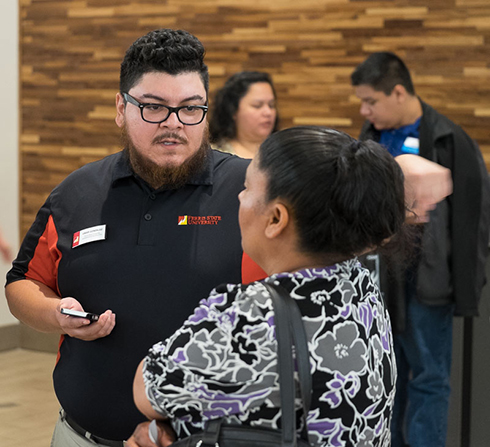 Thirteen new-student orientation sessions will be offered during Ferris State University's Summer 2017 semester, and prior to the start of fall classes beginning.
Assistant director of Admissions Eric Simone said the first orientation session begins the morning of Monday, June 12, with registration beginning at 9 a.m. in the University Center, and the day's activities continuing through approximately 4:30 p.m. That begins a Monday-Tuesday-Thursday pattern for the sessions to follow during the weeks of June 19, July 10 and July 17.
"Over 2,000 students will attend an on-campus orientation during the summer," Simone said. "Several hundred transfer students will complete an online orientation prior to starting their classwork with the university."
Simone said the sessions are focused on the students' acclimation with campus resources, meeting other incoming students and better understanding the details necessary to ensure their progress in a degree program.
"Students may choose to take a walking tour of the Big Rapids campus, but our primary goals for the day include verifying that the student account is set for the upcoming semester, obtaining a course schedule, learning about campus resources and meeting other incoming students who are likely be in their courses when they return in the fall. Some of these aspects include establishing their MyFSU account, taking a photo for the student ID, providing time to meet with Housing and Residence Life staff and our Financial Aid experts," Simone said. "Orientation participants, and their parents, will have a luncheon in the University Center's Quad Café as well as attend specialized breakout sessions for students and their families."
Simone said Admissions is excited to now offer a Parent Panel while the students are involved in peer activities, before they move on from those team-building exercises to visit their group and college headquarters and register for classes.
"The Parent Panel offering is the main change in our orientation sessions," Simone said. "We have been told by parents that they are pleased to hear more about the university and what their students can expect in terms of services and support. Students are excited to move on and begin their Ferris experience. So, there will be student activities on the Quad following those organizational efforts as team building helps relieve any tension brought on by the business aspects of the orientation process."
The final orientation session is scheduled for Thursday, Aug. 24, prior to the opening of the on-campus residence hall facilities, for those who cannot attend the early summer sessions.
Students may register online for the orientation session of their choice. Simone suggested that students and parents review information regarding orientation and registration prior to their session.


PHOTO CAPTION: Students planning to attend Ferris State University in the Fall 2017 semester are invited to attend one of 13 orientation sessions between Monday, June 12, and Thursday, Aug. 24. Registration, and the completion of establishing accounts with the university are among the goals of these sessions.