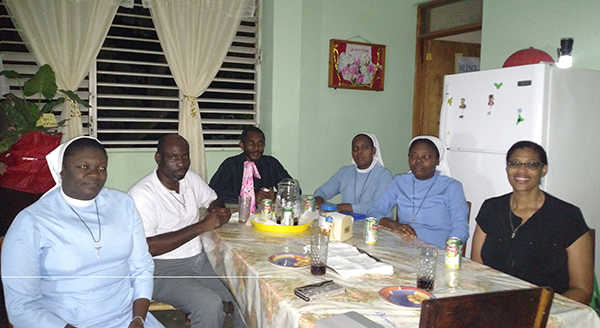 PHOTO CAPTION: Rita Walters (right) an assistant professor of Social Work at Ferris State University, meets with a group from the Daughters of Mary, based in Belladere, Haiti. Walters will lead a Study Abroad service learning experience in Haiti from Friday, June 9 through Sunday, June 18. Also pictured is a head shot of Walters.

A contingent of 10 Ferris State University students and faculty members will travel to Haiti on Friday, June 9 to begin a Study Abroad service learning experience, which will include first-hand exposure to education and healthcare delivery in the impoverished Caribbean nation.
Assistant Professor of Social Work Rita Walters, from the College of Arts, Sciences and Education, said word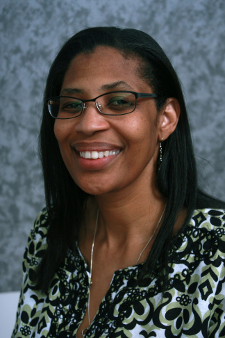 has spread through the Big Rapids community about the class, Social Work 390, International Engagement in Haiti, and a church has offered school supplies and a local dentist is providing them with 300 toothbrushes to distribute. The group's Haiti tour includes the capital, Port-Au-Prince, and the smaller communities of Milot, Belledere and Jacmel.
"I am overwhelmed by the donations that we will be able to offer to those we will meet on our travels, though it may require adding to the luggage we take along," Walters said. "I am sure these items will be well received at our stops throughout this visit."
The group will be based at a convent and school operated by the Daughters of Mary, whose ministry is focused on support of the poor and neglected. Walters said while the group is staying there, a school classroom will be dedicated to Ferris, and she is bringing a university flag, pennants and other items to adorn the room.
"We have a Public Health student in this group and another pursuing their Bachelor of Science in Integrative Studies, along with Social Work students and a faculty member enrolled in the course," Walters said. "We will also have a couple of Haitian college students with our group serving as interpreters. Living in the housing of a mission school and convent will require some adjustment since we will use pit toilets and other rustic accommodations. Our students are aware of this and well prepared for what they will see."
Walters said the group will participate, as guests, in a Social Work class at Université Publique du Nord au Cap-haïtien, visit an animal care clinic, in Milot; and walk a trail in a nearby mountainous region to expose students to the Haitian wildlife and geography.
"I'm so excited to consider the many opportunities offered by our supporters in that area," Walters said. "We are using Helping Hands for Haiti, a non-secular nonprofit organization, as our facilitators for this Study Abroad visit. With the help of our interpreters and many contacts during the visit, there will even be a chance for them to spend an evening on the town to learn about the country's nightlife."
Students will be asked to produce an advertisement, in written or video form, that promotes Study Abroad opportunities in Haiti, following their return to the Ferris campus on Sunday, June 18. Walters said ethnographic journals are part of their curriculum along with research papers on a selected social problem found in Haiti.
"We hope to give our students a better immersion in Haitian culture and education," Walters said. "We're grateful for the assistance offered by Ferris' Office of International Education to make our visit, and experience possible."