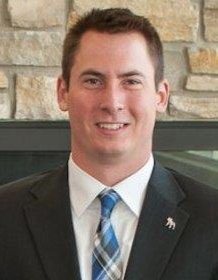 A 2015 graduate of Ferris State University's College of Business is among four recent appointees to The Ferris Foundation's Board of Directors.
Andrew Kalinowski, a financial auditor with Ernst and Young LLP in Grand Rapids, was appointed to the Board of Directors of The Ferris Foundation and approved by the university's Board of Trustees. He joins fellow alumni Kenneth Kuk and Luke Wyckoff, along with Susan K. Jones, a Ferris professor, as new board members. Kalinowski exhibited a wide range of leadership activity during his time as a student, according to Carla Miller, executive director of The Ferris Foundation.
"We are very pleased that Andrew has made this commitment to the Foundation, as he establishes himself in the financial advisement field," Miller said. "His service, while on campus, to Student Government, the Professional Golf Management Student Association and Pi Kappa Delta are a testament to his belief in the Ferris core values of opportunity, collaboration and diversity."
Kalinowski was elected SGA president in two consecutive years, and served the association as a vice president and director of diversity. He also served as secretary of the Asian Student Organization and was a member of Ferris' debate team.
"I was very pleased when Carla asked about making this commitment to the Foundation given my many campus activities as I pursued my degree," Kalinowski said. "I enjoy being involved and active and see joining the Foundation Board of Directors as a great opportunity."
Kalinowski is also involved with Grand Rapids Opportunities for Women, or GROW, Grand Rapids Young Professionals and Restorers, Inc., an organization offering training, mentoring and networking to budding entrepreneurs. The Ferris Foundation Board of Directors has a variety of fall activities, culminating in the Foundation's Benefit for Excellence, to be held Friday, Nov. 10 in Grand Rapids.
"Being based in Grand Rapids, I look forward to being able to network with Ferris alumni in this area," Kalinowski said. "I still have many campus contacts in the Professional Golf Management program and I look forward to this greater involvement with the university."
These recent appointments mean that more than 30 active and emeriti board members are at work, in support of The Ferris Foundation.


PHOTO CAPTION: Andrew Kalinowski, a 2015 Ferris State University College of Business graduate, is among four recent appointees to the Board of Directors of The Ferris Foundation. Kalinowski was twice elected President of the university's Student Government Association, and works as a financial auditor in Grand Rapids.