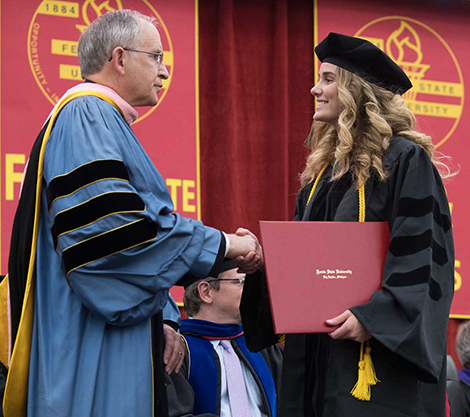 A deeper look into graduation rates reveals 63 percent of students attending Ferris State University graduate in six years or less – 23 percentage points higher than previously reported. This new data, compiled by the State of Michigan's Center for Educational Performance and Information, uses figures that track students from school to school, encompassing those who first attend community college or transfer from another institution.
Dr. Paul Blake, provost and vice president for Academic Affairs, is pleased to see the release of this new data, as it more accurately reflects the students served and the innovative work of faculty and staff who make it their primary goal to ensure success for all students who attend Ferris.
"Reducing the time to graduation and lowering student debt is paramount to all of us at Ferris State University," said Blake. "The innovative ways that the university and individual colleges have responded to these challenges reflect our commitment to students and responsiveness to their needs."
Several initiatives at Ferris that lessen a student's time to graduation include reducing the wait lists for high-demand programs such as welding or nursing; the unique programming and interdisciplinary approach to connecting students within the colleges, thus enhancing the classroom experience; increasing scholarship opportunities; creating cultural and global connections for students; and concurrent and dual enrollment opportunities for many Michigan high school students across the state.
The data released from CEPI also shows overall 71 percent of students graduate from Michigan's 15 public universities in six years or less, compared to federal data reporting just 61 percent.
"This new data includes all degree-seeking students, including those who attended a community college before transferring to a university. Those students deserve to be counted and given credit for their success," added Blake.
Ferris State University is a four-year public university with campuses in Big Rapids, Grand Rapids and satellite campuses across the state of Michigan. Ferris offers more than 180 educational programs, including doctorates, master's, bachelor's and associate degrees, through eight academic colleges: Arts, Sciences and Education, Business, Education and Human Services, Engineering Technology, Health Professions, Kendall College of Art and Design, Michigan College of Optometry and Pharmacy.


PHOTO CAPTION: Ferris State University President David Eisler shakes hands with a graduate during commencement ceremonies in May 2017.