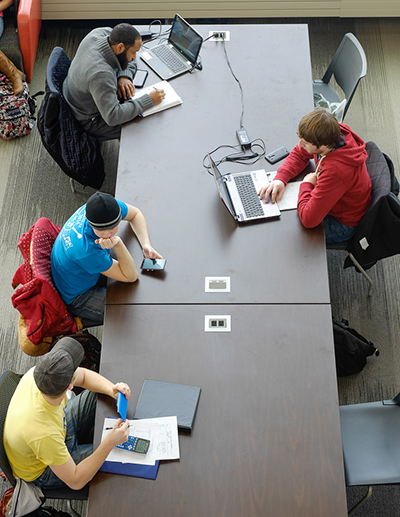 Ferris State University staff and administrators were joined by thousands of students and faculty, on main campus in Big Rapids, Mich., as Monday, Jan. 9 represented the first day of classes for the Spring 2017 semester.
Dean of Student Life Joy Pufhal said early highlights in the spring campus event schedule include an opportunity to enjoy some laughs and ponder the skills of magician Steven Brundage, who will entertain in the University Center from 7 to 8 p.m., Thursday, Jan. 12.
"We're really excited to present Steven, as he was a semifinalist on 'America's Got Talent,' and has appeared on other network and syndicated television shows," Pufhal said. "We hope students enjoy his comedy and skills, such as solving a Rubik's Cube while blindfolded."
The Office of Student Life is also pleased to complement the Ferris athletics schedule Friday, Jan. 13, Pufhal said, with another opening week activity at the University Center.
"Bulldog Hockey returns home with contests against Alaska (Fairbanks,) and we invite students to a Casino Night, following Friday night's game," Pufhal said. "There will be roulette tables, along with blackjack and poker in Room 202, starting at 10 p.m. There will be prizes to claim with your winnings."
Other highlighted activities, later in January, include the second anniversary of the University Center Friday, Jan. 20 from 8 p.m. until midnight, and the spring intramural season, beginning Sunday, Jan. 29.
University Center Director Mark Schuelke noted extended hours at the bookstore will continue during the first week of the spring semester.
"Monday, Jan. 9, and Tuesday, Jan. 10, the bookstore will open at 8 a.m. and remain open until 8 p.m.," Schuelke said. "Wednesday, Jan. 11, and Thursday, Jan. 12, the staff can accommodate students' book and supply needs from 9 a.m. to 7 p.m."
Pufhal said all elements of the university community encourage students to make the most of their learning opportunity, by starting the spring semester, strong.
"Beyond focusing on when a paper or project is due, we hope students do what's necessary, academically, and invest two to three hours of study and review time for every hour they are in class, each week," Pufhal said. "Developing a structured schedule and approach to studying is important to student success."


PHOTO CAPTION: Indoor activities at the University Center highlight the early weeks of the Spring 2017 semester's event schedule at Ferris. Comedian Steven Brundage will entertain in the UC Ballroom Thursday, Jan. 12 at 7 p.m.