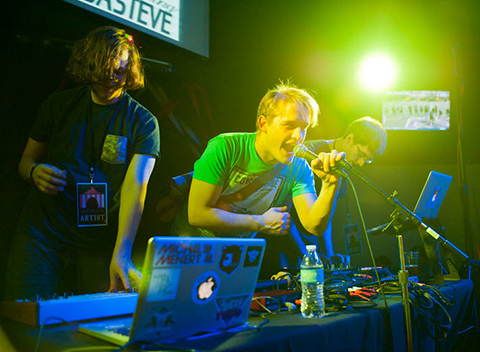 A dozen students in Ferris State University's Music Industry Management program explored career opportunities and gained insight on professional advancement, as invited guests to the National Association of Music Merchants annual trade show, Jan. 19-22, in Anaheim, Calif.
A total of 60 students from 16 colleges and universities received President's Innovation Awards from the NAMM Foundation, which are granted to students seeking careers in the music business, music education and/or music products. Ferris trailed only the State University of New York-Potsdam in the number of award recipients invited to NAMM 2017.
The NAMM GenNext Initiative provides daily professional development programming to all Innovation Award recipients, with dedicated learning opportunities intended to help these students in their career advancement.
Ferris' NAMM Foundation President's Innovation Award recipients include:
Daniel Amrhein, Copemish, Mich.
Casey Aumaugher, Davison, Mich.
Bianca Broniec, Lindenhurst, Ill.
Macy Fahl, Kalamazoo, Mich.
Carla Hendershot, Ypslanti, Mich.
Zachary Kidder, Rockford, Mich.
Jessica Marcks, Holly, Mich.
Alexanna McKessy, Charlotte, Mich.
Megan Polisuk-Balfour, Clinton Township, Mich.
Hannah Rowlett, Livonia, Mich.
Tyler Schultz, Jackson, Mich.
Isabella View, Bay City, Mich.
Ferris' MIM program was established in 1995 and now boasts more than 200 students. Other students from the program are likely to join the President's Innovation Award recipients at NAMM 2017.
Click Music Industry Management to learn more about the College of Business academic program.