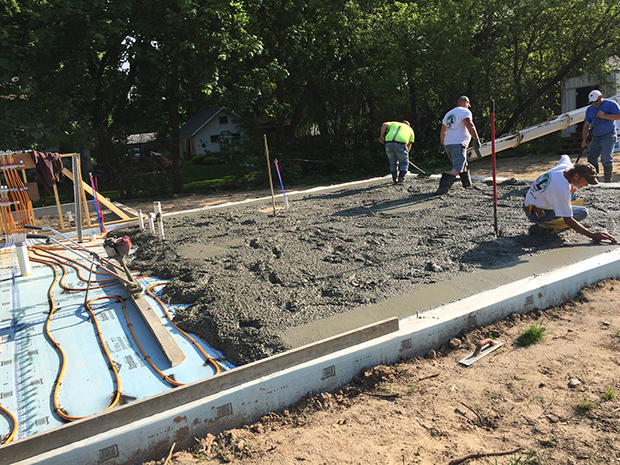 PHOTO CAPTION: A Mecosta County Habitat for Humanity home in Big Rapids has Energy Star Version III certification, thanks in part to the efforts of HVACR instructors from Ferris State University, and students in the program. A radiant heat system in the concrete flooring of the home was installed by associate professor Joe Compton, and assistant professor Brian Holton.

A Habitat for Humanity home, recently completed in Big Rapids, Mich., is snug and comfortable as winter's chill dominates, thanks in part to efforts made by faculty and students in Ferris State University's Heating, Ventilation, Air Conditioning and Refrigeration program.
Work began on the installation of radiant-heat tubes, which were placed in the concrete floor of the home shortly after the Spring 2016 semester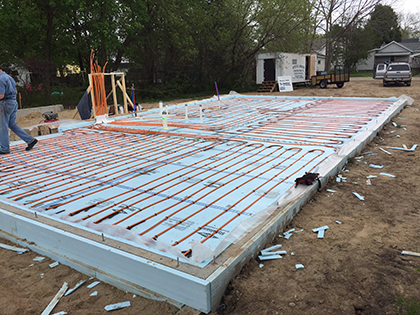 ended, in May, according to associate professor of HVACR Joe Compton, from the College of Engineering Technology.
"This home was being built on property Habitat had received from the City of Big Rapids," Compton said. "The building was slab-on-grade construction, which lead to the proposal to develop a radiant-heat system."
Compton was assisted by assistant professor of HVACR Brian Holton in laying out the radiant-heat tubing, which was attached to a foam insulation board, before the system was covered in concrete. In an individual effort, Compton offered his skills to the project by installing the home's gas piping.
An energy recovery unit was also developed for the home, which exhausts air from the kitchen and bathroom areas, while a heat exchanger warms the fresh air that is brought into the home. Holton worked on the sheet metal construction of the energy recovery unit, while a sophomore in HVACR, Drew Doyle, of Grand Rapids, Mich., assisted in the installation.
"The home was being built to specifications that meet requirements for an Energy Star, version 3.1 certification," Compton said. "We installed a system that guards completely against air coming through the walls, and in general, air infiltration is minimal. This home will use very little energy per square foot, it will use much less energy than the typical home."
Compton was assisted by other Ferris HVACR students during the fall semester, as they installed a unit that served as a boiler and water heater for the home.
"They're getting quite a house for what the cost of construction presented," Compton said. "This is a very good boiler to accomplish the work that it will be doing."
The home, built in the 500 block of Division Avenue, an established residential area in Big Rapids, is also well insulated, which is another element of the Energy Star certification process.
"These efforts mean that the construction will keep a high quality for a longer time," Compton said. "The measures taken to control airflow reduce the potential of issues like mold, which could lead to structural problems with the home."