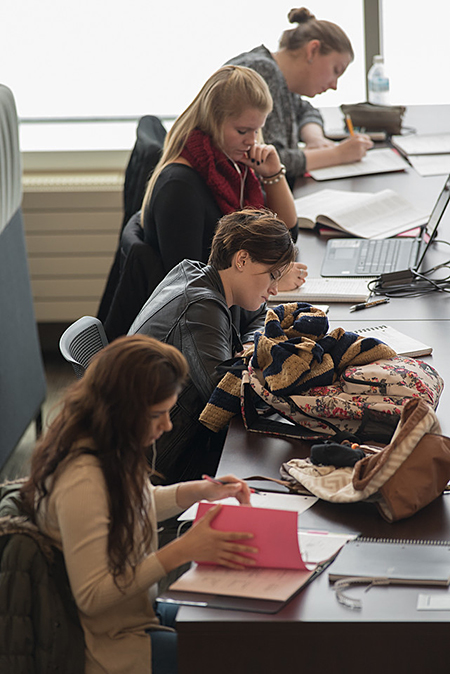 The spring semester is underway, and Ferris State University has welcomed 13,471 students to campus as the 2016-17 academic year continues. On main campus, in Big Rapids, 9,485 students begin a new semester.
Ferris' newly-released enrollment figures show a slight decline of 358 students from the previous spring semester's total of 13,829 students. On main campus, the university shows an increase in dual-enrolled students, up 315 from the Spring 2016 term, to 811. Off-campus locations experienced a small enrollment drop, of 154 students, to 1,863 this spring. This semester's figures remain consistent with national enrollment trends – trends that were anticipated by institutions, like Ferris, and others.
The university is coming off a positive fall semester featuring an enthusiastic student population that has been engaged from Bulldog Beginnings activities, to kick off the academic year, to the celebration of more than 1,000 graduates, at December's commencement, including 700-plus, who participated in the ceremonies.
"We're excited to welcome back an engaged student population to begin the spring semester," said Jeanine Ward-Roof, vice president for student affairs. "Ferris is coming off a great fall semester with high student energy, awesome performances by our athletics teams and a wonderful commencement ceremony that featured many great stories of achievement by our graduates. We're continuing to work hard, with our recruitment efforts, to attract and retain an enthusiastic and high-achieving student population for years to come."
Spring enrollment highlights include increased fall-to-spring retention of first-year students – up to 93 percent, in Spring 2017, from 90 percent, in Spring 2016. The Hispanic population is 654 students while the Asian count is 218. Those numbers reflect increases of 37 Hispanic and 25 Asian students from the previous spring.
During the Fall 2016 semester, Ferris enrolled 14,187. That number included more than 10,000 students on main campus, in Big Rapids.


PHOTO CAPTION: Ferris State University has released its enrollment numbers for the Spring 2016 semester. Enrollment currently stands at more than 13,000 students.