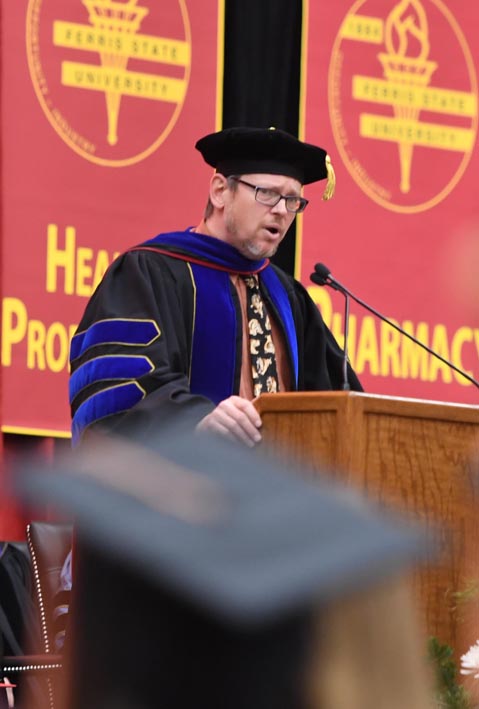 Watch highlights from the Fall 2017 commencement ceremonies.
Accomplishment, diligence and perseverance were among the messages heard by Class of 2017 graduates, in Jim Wink Arena, as Ferris State University hosted its fall commencement ceremonies on Saturday, Dec. 16, in Big Rapids. President David Eisler and John Scott Gray, Ferris' 2017 Distinguished Teacher Award winner, were among individuals who addressed fall semester members of the Class of 2017, on Saturday.
"Of course, the honor today is all yours, and it is your accomplishment that give us cause to visit together," said Gray, who expressed appreciation for being named the recipient of the Distinguished Teacher Award, and to be given the honor to deliver the fall commencement address. "Your graduation is a sign of your intelligence, your diligence and is indicative of a job well done."
More than 1,050 students graduated, including 660 students who participated in Saturday's ceremonies. The morning session honored graduates of the colleges of Arts, Sciences and Education; Education and Human Services; and Engineering Technology. The early-afternoon ceremony highlighted graduates of the colleges of Business and Health Professions.
Gray, in addressing graduates, also offered messages of congratulation even as he urged Ferris' newest alumni to pursue future opportunities.
"Tomorrow offers new chances to continue to earn the honors bestowed upon you, today, and to continue to grow as human beings. As you move off to careers in your chosen fields, graduate school or simply return home to be with your family, remember that each day is rich with opportunities," he said. "Next week, I urge you to seek out these moments of rich and complete awareness. That said, today is still commencement. There is time to still celebrate this moment in your lives. Congratulations."
Eisler opened the ceremonies with welcome messages to graduates, their families and their friends, to join in the commencement celebration. He further welcomed the Board of Trustees, faculty, staff, and others to celebrate the accomplishments of the newest members of Ferris' Class of 2017 and its Alumni Association.
"As a university community, we are immensely proud of each of you. It is a true honor to stand before you, the Class of 2017," the president said in his welcome address to those people assembled in Jim Wink Arena. "This is a wonderful opportunity for you to reflect on your accomplishments, here, at Ferris State University. Your success is built upon the collective efforts of so many people who care about you and take great pride in your growth and development."
Gray spoke of life moments as he urged Class of 2017 members to appreciate what they have accomplished and to accept the challenge of what they can accomplish, in the years to come.
"Plan for the future, but be sure to live in the moment," he said.
Follow the conversation, in social media, by visiting the Facebook, Instagram and Twitter accounts. Also, in social media, follow #FerrisGrad2017.


PHOTO CAPTION: College of Arts, Sciences and Education faculty member John Scott Gray, the 2017 recipient of Ferris State University's Distinguished Teacher Award, addresses students during commencement on Saturday, Dec. 16 in Big Rapids.