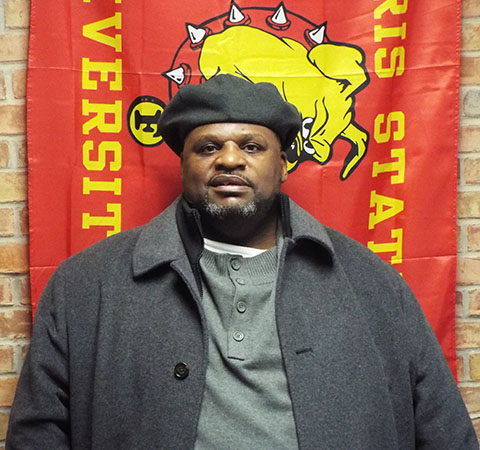 It will be his first night in Big Rapids, and Carl Ferguson will make his first extended visit to Ferris State University's main campus, when he arrived on Friday, Dec. 15, ahead of his participation in the College of Education and Human Services' Fall 2017 commencement ceremony, on Saturday, Dec. 16.
A long list of life experiences and struggles have inspired the Muskegon resident as Carl hopes to put his time and talents into helping children in his hometown work through their personal problems. Ferguson has completed an internship with the Muskegon County Public Defender's office, which inspired him to pursue a career in counseling, as he received his Bachelor of Science in Criminal Justice.
"At some point, I hope to serve in the juvenile division," Ferguson said. "When I was working with contacts, in the public defender's office, I believe I learned a lot there."
Carl graduated from Muskegon Heights High School, in 1988. He said spending four years in the Marines, and working 13 years for Sealed Power, a piston-ring manufacturer that had manufacturing facilities in Muskegon Heights, were among his career highlights prior to entering higher education.
"When I was in the service, I was a motor vehicle operator, what other Marines would call a '3531,' Ferguson said. "I served in both Desert Shield and Desert Storm. All of the rest of my life has been spent in the Muskegon area. I had been with Sealed Power for some time, then the plant closed, in 2008. I decided to take my severance money and pursue a '3+1' degree through Ferris."
Ferguson completed his Associate of Applied Science degree, at Muskegon Community College, and continued to work in the community. His pursuit of credits at MCC's Stevenson Center for Higher Education, and advancing his career prospects took an unexpected and harrowing turn.
"On March 14, 2012, I suffered a stroke," Ferguson said. "I collapsed waiting for a limousine on the day of my mother's funeral. Since I had a brain bleed, and an aneurysm, the doctors decided to place me in a medically-induced coma. Some people were telling my family to 'pull the plug,' but thankfully, they never came to that conclusion. It was 28 days before my condition improved to the point where I was 'brought back.'
His daughters from his previous marriage were with him at the service, and the oldest, Tierra, a freshman at West Chester University, in Pennsylvania, delayed her education a year to support Carl during his rehabilitation. The stroke left Ferguson with reduced abilities on his left side, and he spent six months in a nursing home following his release from the hospital.
"I was driven to continue my education and pursue a bachelor's degree through Ferris, though I was struggling with regaining my mobility," Ferguson said. "I was also trying to get back to work, but then my position was terminated. By the fall of 2014, I was able to resume my '3+1' studies through a dual-enrollment program involving MCC and Ferris, in Muskegon."
Carl's perseverance paid off, as he was named to the dean's list during the 2017 summer semester, at Ferris, prior to beginning his internship with the public defender's office. Having grown up in a family with six siblings, Ferguson is the first to earn a college degree.
Tierra graduated this past May, becoming the second of his three children, in Philadelphia, to earn a college degree. Brianna, Tierra's sister, earned her diploma from the University of Pittsburgh in Spring 2016. Brianna's twin, Brittney, is working toward graduation from Neumann University, in Aston, Pennsylvania, in May of 2018. Carl is pleased to be joining his family's fold of college graduates.
"I am happy to be pursuing my life's dream," Ferguson said. "My family is very excited by this, they never thought I would pursue a degree, after I entered the Marine Corps. As far as commencement goes, I am a little concerned about my mobility issues, and anything that the start of winter might present. I will be in town the night before, to assure that I am ready for Commencement."
Ferguson believes his variety of life experiences and familiarity with the Muskegon area will be an asset as he seeks a position where he can provide counseling to young people.
"There are a lot of lost juveniles here, but I also feel there is much that I can do to help them," Ferguson said. "Even if I had to volunteer through the Public Defender's office to develop my abilities, I will do so, to get my foot in the door."
Ferguson feels that even the most difficult juvenile cases that are found in the legal system, or are referred to nonprofit agencies can be reached. He intends to make achieving those connections his life's work.
"I believe you have to show them kindness, love and respect," Ferguson said. "Once they understand that they can talk to you, then, they will respond well in that situation."
Muskegon County's Chief Public Defender Frederick Johnson, Jr. said Ferguson was exposed to a variety of office operations during his internship.
"He was asked to review files for our attorneys and capsulize information that would be appropriate, as the client's case was brought before a judge," Johnson said. "That would include legal issues involving alibis, or whether there were any discrepancies that arose in police procedure. Carl was also present at arraignments, where public defenders would be assigned to a client's case. He would be that 'first impression' of our office, which is very important for us. That also required him to identify any special needs that the defendant might have."
Johnson said Ferguson also responded well to their suggestions with regard to increasing his personal skills.
"Because of his mobility issues, Carl needed to develop his word-processing ability," Johnson said. "He understood our desire that he increase his capabilities, which was imperative, given the amount of information that is recorded and catalogued in our line of work. We were pleased by his effort and improvement."
Ferguson's post-commencement goals include supporting his daughter Alexis' advance toward higher education. She is a freshman at Mona Shores High School.
"She's a real bookworm," Carl said. "She told me she wants to attend Johns Hopkins University and become a surgeon. I wouldn't mind graduate school after I get established, and try and keep up, or ahead of my children."

PHOTO CAPTION: Carl Ferguson, a Fall 2017 graduate of Ferris State University's Criminal Justice program, completed his studies at the Stevenson Center for Higher Education at Muskegon Community College. Ferguson is a veteran of the U.S. Marine campaigns in Desert Storm and Desert Shield, and earned his degree, despite mobility issues resulting from a stroke he suffered in 2014.