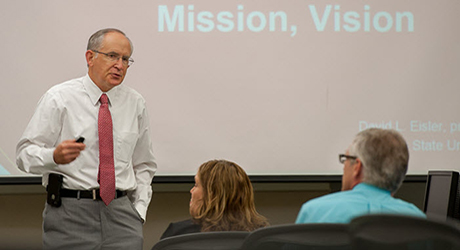 A full week of engagement for new members of the Ferris State University faculty, and for professors who are entering tenure-track positions with their colleges will begin Monday, Aug. 14 on the main campus in Big Rapids.
Todd Stanislav, director of the Faculty Center for Teaching and Learning, said their five-day schedule of events and informational sessions has been designed to address both practical, and theoretical goals.
"This is a chance to help new faculty members make a positive transition to the Ferris academic community, as their Orientation Week provides great opportunities to establish peer relationships with faculty, make contacts with university staff and other faculty and meet with our administration," Stanislav said. "We hope this gives them a sense of home and identifies where they can pursue personal and professional development."
Lauri Daniels, in administrative support with FCTL, said that more than 30 faculty have been hired for the 2017-18 academic year, with colleges continuing their staffing considerations into August.
"All new faculty are invited to participate in Orientation Week as soon as we receive their data from the college," Daniels said. "We reach out to them by letter, as well as through emails, to welcome them to Ferris and determine if they have special dietary needs that should be met."
Daniels said there are sessions offered to the faculty which address employee benefits, along with a review of anti-harassment and non-discrimination policies, which are germane to the orientation of any Ferris employee. Faculty also have access to curriculum design experts, offered the opportunity to meet with students, as well as last year's new faculty, and to begin working with the Blackboard management system that is used by the university.

"We want our faculty to have ample time to develop a shell for their instructional needs," Daniels said.
Stanislav said President David Eisler, Provost and Vice President for Academic Affairs Paul Blake and Vice President for Diversity and Inclusion David Pilgrim will each address faculty participating in the Orientation Week program.
"We hope, through this week of programming, our new faculty can understand and appreciate the mission, history, goals and core values of Ferris State University," Stanislav said. "Our main goal during this week is to help faculty cultivate a stimulating, student-centered and inclusive learning environment for the students they teach. We will show them the many rich resources, technologies, people and library facilities that are available and accessible to them, so they can guide our students to academic and professional success."


PHOTO CAPTION: Ferris State University President Eisler will be one of the individuals addressing the new faculty as they begin orientation prior to the start of the Fall 2017 academic year.