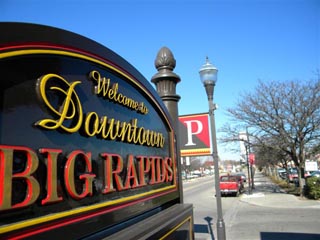 New and returning Ferris State University students are invited to spend time in Big Rapids' downtown area Saturday, Aug. 26, as Big Rapids Beginnings provides a chance to enjoy a carnival atmosphere on Michigan Avenue, with a variety of entertainments arranged by a committee of businesspeople and university staff.
Rex Schuberg, a 1978 graduate of Ferris' College of Business, took a lead role in the organization of the event, which is part of the Bulldog Beginnings schedule of activities designed to welcome students to campus for the 2017-18 academic year.
"Back in the 1960s, former mayor, Robert Horan Jr., and other leaders in Big Rapids, had hot dog roasts and other welcoming events, so students knew that they were at home while they studied at Ferris," Schuberg said. "Big Rapids Beginnings was reinstated last year, and we worked hard to ramp up the offerings this Saturday."
Nick Smith is the activities coordinator for Ferris' Center for Leadership, Activities and Career Services, and is involved with the committee work behind Bulldog Beginnings, and this event. He said Schuberg, fellow business owners and other downtown-based organizations have collaborated to create a fun event.
"It's great that all of these groups are taking so many strides, like offering sidewalk sale specials, closing Michigan Avenue and bringing in a full-size Ferris wheel to make it a festive afternoon," Smith said. "We are glad that this opportunity is available to the students and all of the Big Rapids community."
The Big Rapids Beginnings schedule is set from 11 a.m. to 6 p.m., and Schuberg said an open house at the Elks Lodge at Michigan Avenue and Pine Street will offer free hot dogs and soft drinks beginning at 1 p.m.
"Morningstar Chiropractic will be offering chair massages, Artworks will be active and a U.S. Army hoop shoot, Marine Corps pull-up competition and a 'Putt Around Town' contest have also been planned," Schuberg said. "That is a students-only event, and those sinking a hole-in-one will be able to gather tickets at those putting greens, with a 50-inch flat-screen television available as Grand Prize."
Schuberg said there will be an open mic arrangement in front of Quinn's Music, with acoustic guitars ready for any singer or player who wants to present their favorite song. Nonprofit groups are also taking part in Big Rapids Beginnings, to explain their outreach programs and solicit support for individual campaigns.
"Angels of Action is asking that donations of peanut butter and jelly be brought in. They will be set up to receive those goods in front of Red Fox Market," Schuberg said. "Artworks is taking an active role throughout the afternoon, along with WISE (Women's Information Service), Manna Pantry and the Big Rapids Department of Public Safety. We are glad to offer Ferris students a chance to join the community, in a unique opportunity, because they are an important part of what Big Rapids is."
PHOTO CAPTION: Ferris State University students are invited to join Big Rapids residents for Big Rapids Beginnings, a carnival-like event set for Saturday, Aug. 26 on Michigan Avenue in the downtown business district. Free offers include an Open Mic arrangement, along with acoustic instruments outside Quinn's Music.