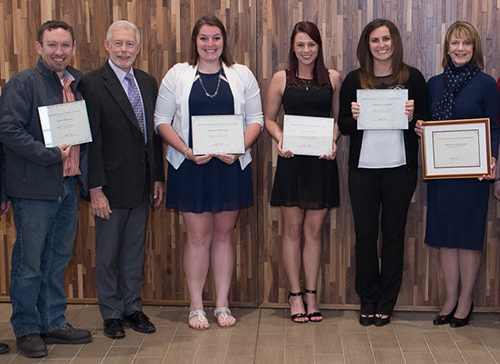 Ferris State University's College of Engineering Technology emphasized the abilities of its students on Tuesday, April 18, and saluted award recipients and supporters in its second annual recognition banquet, "Honoring Women in the College of Engineering Technology," held at the University Center.
University Career Programs Specialist Leigha Compson said that while women are a nontraditional component of the professional workforce in technological fields, based on the Perkins standards of the federal government, there is an appreciation, and appropriate focus for the role of women throughout the CET and its various departments.
"Through focus group activities, we have learned that our students had a great response to words of encouragement or other notation of their efforts," Compson said. "In each semester this academic year, we were able to make those connections and welcome graduates for campus visits and discussions, who were happy to support us."
Construction Technology and Management Program Coordinator Suzanne Miller, with the recognition banquet fully established, hopes to build involvement in the Women in Technology registered student organization.
"At times, these women can be the only females in a particular class," Miller said. "It is important that we encourage our female students, and involve them in outreach, so that other prospective young women see the opportunities available and believe that they also can participate in, and succeed in our programs."
Provost and Vice President for Academic Affairs Paul Blake told the audience gathered at the banquet he learned several years ago that women in curricula, such as construction, were most worthy of professional consideration, and praise.
"It is said that a net filled with jewels that is placed in the sun will give off reflections, one upon another, creating a brilliant display," Blake said. "In my experience, the Women in Technology group at Ferris State University, through its collaborative efforts, certainly does sparkle."
CET Dean Larry Schult said that his observations, from more than a decade as a Plastics Engineering Technology instructor, showed him that while women are a minority in their chosen fields, their skills should not be underestimated.
"We are proud of alumnae, who are owners of companies, managers, and those who hold other leadership positions," Schult said. "They entered their collegiate studies with a stability, an awareness, and a maturity, which their male counterparts were hard pressed to match in the classroom."
Sophomore Megan Cramer, a Heavy Equipment Technology student from Grand Rapids, and the CET's Nontraditional Rising Star Award recipient, offered a reflection at the banquet, where she optimistically regarded the opportunities of this year's award recipients and her own prospects.
"I am pleased to think ahead about the Heavy Equipment Technology career choices available to us across the country," Cramer said. "I found a talk from a Cummins Corporation executive on campus about having a passion for our careers encouraging, and I'm getting ready to go for it."
Among those receiving awards at the banquet was junior Julia Tisdale, of Midland, who earned the Breaking Traditions Merit Award from the Michigan Department of Education. The award will be presented in May, at an event in Lansing. Tisdale's excellence in a nontraditional career and technical education program marks the third straight year a Ferris student has received this honor.
The CET's Nontraditional Student Community Service Award winner is junior Teanna Van Horn of St. Johns, with senior Maycee Robinson, of Mason, receiving the Outstanding Nontraditional Student Award.
Also among those honored by the college were Assistant Professor of Welding Engineering Technology Brent Williams, who received the Nontraditional Student Advocate award, and Amerikam president and CEO Stephanie Leonardos, who received the Outstanding Industry Partnership for her corporation's support of student Capstone projects.
"I am inspired by the sense of community in this group," Leonardos said, in concluding remarks at the banquet. "I hope students, and those who support the college, know that it is very special to be at Ferris and in this field."


PHOTO CAPTION: The second annual Recognition Banquet Honoring Women in the College of Engineering Technology at Ferris State University was held Tuesday, April 18 at the University Center. CET Dean Larry Schult (second from left) was joined by the evening's award recipients, including Assistant Professor of Welding Engineering Technology Brent Williams, (left) senior Maycee Robinson, of Mason; (center) juniors Julia Tisdale, of Midland; and Tenna Van Horn, of St. Johns; along with Amerikam Corp. President and CEO Stephanie Leonardos (far right).