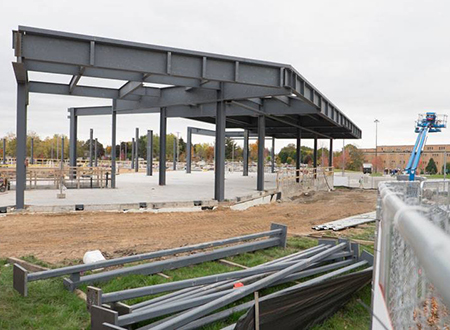 Construction of the 402-bed, four-story North Hall, on the Ferris State University campus, continues as the building's framework takes shape near the University Center.
Senior Project Manager Joseph Haupt said the middle of November presents some important milestones for the project timeline, both in terms of site development and pedestrian passage in that area of campus.
"All of the foundation work is complete," Haupt said. "The site utilities are largely installed, and we intend to have sidewalk access completed by Nov. 15, weather permitting, to accommodate foot traffic to the Automotive Building, the Arts, Sciences and Education Commons and Ives Ave."
Sidewalks that had been located in the construction area were closed, in late July, with foot traffic diverted to Parking Lot 1, near University Center, Parking Lot 50, west of the Automotive Building and the lawn south of the Automotive. Haupt said that pedestrian safety remains a high priority for the university as the project timeline advances.
"We're looking to provide a safe walkway for students, faculty and staff to pass by the construction area and access Ives, and that will be maintained through the remainder of the project," Haupt said.
Haupt said all load-bearing concrete-masonry unit walls of the residence hall's first floor are due to be in place by the end of October. Structural steel is rising in the southern lobby area, and that work should be completed by mid-November.
"On the second, third and fourth floors, of North Hall, there will be panelized wood wall sections installed to create housing, study areas, laundry facilities and other common spaces," Haupt said. "Those are being built off-site and will start arriving at the construction site during the first week of November."
Construction on the North Hall project is scheduled to be complete by the end of July 2017 at a cost not to exceed $28.15 million. A website offers details on the project, and includes links to two Web cams, which provide real-time observation of construction activity.
The building will accommodate freshmen arriving on campus for the Fall 2017 semester.


PHOTO CAPTION: Contractors continue their work to develop the North Hall on the Ferris State University campus. The 402-bed, four-story residence hall is scheduled to be completed prior to the beginning of the Fall 2017 semester.