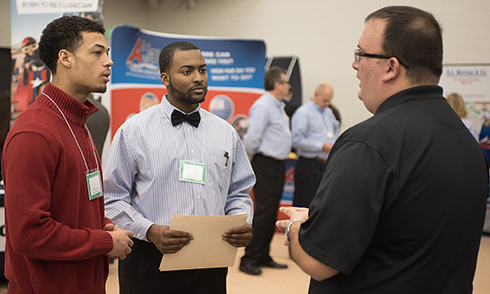 Students and alumni of Ferris State University are encouraged to consider their short-term prospects, and professional opportunities as Career and Internship Week begins Thursday, Oct. 13, and continues through Thursday, Oct. 20.
Walk-in hours from 10 a.m. to 1 p.m. are available Tuesday, Oct. 11 and Wednesday, Oct. 12, at the Center for Leadership, Activities and Career Services, according to Career and Volunteer Center coordinator Mickey Albright. She said that on Thursday, Oct. 13, author Zachariah Ballinger will give a presentation on interviewing and career goals, starting at 5:30 p.m. in Room 111 of the College of Business building.
"The first 20 people who arrive for this talk will receive a signed copy of 'The Hot Seat: How to Meet the Challenge of a New Era in Job Interviewing' afterward," Albright said. "He'll give an entertaining and informative talk. The career center is collaborating with Student Government, Entertainment Unlimited and Ferris' Public Relations Student Society of America to sponsor Ballinger's visit."
Those interested in practice interviews on Friday, Oct. 14 can sign up for their session through CLACS. The sessions will be held at the CLACS office, in Room 121 of the University Center, from 8:30 a.m. to 4:30 p.m.
Albright said more than 270 employers will participate in the Career and Internship Fair, with different employers on site Monday, Oct. 17 and on Tuesday, Oct. 18, from 10 a.m. to 4 p.m.
"Most employers who attend have immediate needs for qualified talent, but many of the companies say they welcome the chance to connect with students early in their academic careers," Albright said. "The alumni and students taking part will find employers throughout the University Center, in the event space, the hallways and all large rooms on the first and second floor."
Participants are encouraged to dress in business attire, carry several copies of their resume, and have their Ferris ID cards handy. Recruiters anticipate talking to those pursuing degrees in Business, Education, Health Care, Engineering Technology and the Social Sciences.
Students are also welcome to attend the Career Center Advisory Council meeting on Wednesday, Oct. 19 from 9:30 to 11:30 a.m. That session will be held in Room 116 of the University Center.
Career and Internship Fair activities conclude on Thursday, Oct. 20, as a Graduate School Expo will be held in the CLACS office.
"We will have representatives from several schools taking part," Albright said. "Those attending will be provided information on financing options for their continuing education, as well as details on the testing requirements for graduate degrees."


PHOTO CAPTION: Over 270 employers will take part in Ferris State University's Career and Internship Fair. Those companies seeking qualified talent for positions to fill immediate needs will be recruiting throughout the University Center on Monday, Oct. 17 and on Tuesday, Oct. 18.