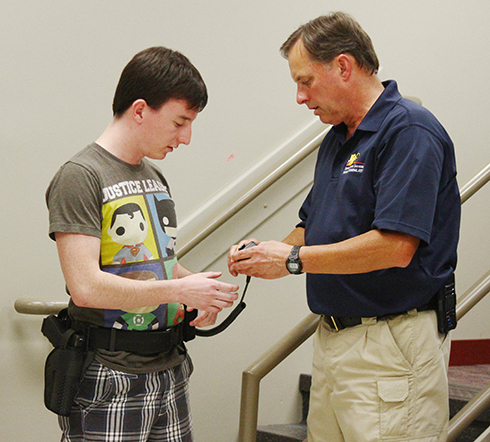 The coordinator of Ferris State University's Law Enforcement Academy offered his insight on use of force laws to around a dozen participants in the inaugural Citizen's Police Academy, organized in collaboration with the Big Rapids Department of Public Safety.
Criminal Justice Professor Cecil Queen said that he consulted with Big Rapids DPS officer Lorne Juday, the lead firearms instructor for the municipal department and a graduate of Ferris' Law Enforcement Academy, regarding the presentation for the citizen group.
"We considered the legal ramifications of the use of police force, along with constitutional issues related to the Tennessee v. Garner U.S. Supreme Court decision," Queen said. "Officer Juday and I developed a scenario we could present using our video-shooting simulator, to illustrate the propriety of an officer's reaction in real time."
Tennessee v. Garner was a 6-3 decision handed down in 1985, where the majority of justices held that deadly force is not permissible to prevent escape from arrest, unless the officer or others face a significant threat of death, or serious physical injury.
Queen said a young man participating in the Citizen's Police Academy agreed to participate in the scenario that the simulator presented, which would record his response if shots were "fired."
"The simulator does not give a participant a lot of time to react," Queen said. "I think those who saw the scenario play out were very impressed with the technology."
The simulator tracks the reaction time of the participant and tracks the rounds that are fired, whether they went stray or hit the target. Queen noted an unintended factor in the presentation and response from those in the Citizen's Police Academy.
"As it was an August evening, it was extremely hot in the Southwest Commons building," Queen said. "I told those in attendance to consider it like they were on patrol in Miami."
Big Rapids Department of Public Safety director Jim Eddinger said that he decided to offer the Citizen's Police Academy as an outgrowth of the President's Task Force on 21st Century Policing, which published its final report in 2015.
"A key pillar of the findings in that report is that law enforcement needs to build trust and legitimacy, to help counteract misunderstanding that can arise when incidents are reported in news media, followed by reactions in social media," Eddinger said. "We held this academy to hear what our public says and thinks about the work we do."
Eddinger said one concept he sought to present to academy participants is that a vast majority of an officers' responses are service-related, so volunteer assistance would allow the professional staff to focus on traffic enforcement and other responses that maximize public safety.
"It's important to offer this training to benefit our officers, and build a base of information for the public," Eddinger said. "With respect to the simulation at Ferris' academy, I wanted our participants to understand the physiological impact that this kind of situation presents."
The Big Rapids DPS will offer its next Citizen's Police Academy in January 2017 with participants learning about operations in the city's police and fire divisions.


PHOTO CAPTION: Criminal Justice professor Cecil Queen assists a participant in the Big Rapids Department of Public Safety's Citizen Police Academy, during their session at Ferris State University's Law Enforcement Academy. A shooting simulator was used to present a scenario where an officer may be required to use force in response to an incident.