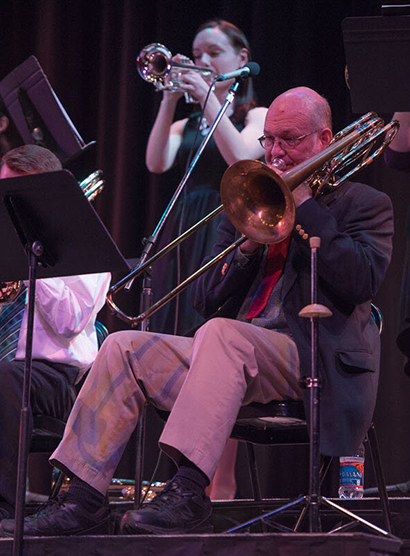 An active concert schedule will present varied musical styles for the enjoyment of audiences from the Ferris State University and Big Rapids communities in mid-November.
The FSU Symphony Band is first to the stage with an 8 p.m. performance on Thursday, Nov. 10 in Williams Auditorium. Ferris students, community members and leading high school musicians comprise the Symphony Band. Their fall selections will include original compositions composed earlier this year by Michael Boo, based on Ferris' fight song and alma mater.
On Friday, Nov. 11, the Ferris Jazz Band hosts its fall concert, which will begin at 8 p.m. in Williams Auditorium.
The 14th annual Veterans Day Concert, featuring the university's West Central Concert Band, is scheduled for 4 p.m. on Sunday, Nov. 13, with the public invited to attend this free event. Among the works to be performed is "Five," honoring a Navy sailor and four Marines who were killed in a July, 2015 attack in Chattanooga, Tenn. Ferris is one of 68 bands to commission composer Kenyon Wilson to create this piece.

Completing the schedule of performances is the West Central Concert Orchestra's Fall Concert, on Sunday, Nov. 20, beginning at 4 p.m. in Williams Auditorium. Richard Scott Cohen, a Ferris professor of Music, is the director of the Orchestra, the Band and Ferris' Symphony Band, while the Jazz Band is directed by Matt Moresi, a Ferris assistant professor of Music.
Anyone wishing to have assistance in attending these events should contact the Williams Auditorium offices at (231) 591-5600, or (231) 591-3676.


PHOTO CAPTION: Four concerts will be held on the Ferris State University campus during November, including a performance by the Ferris Jazz Band on Friday, Nov. 11.