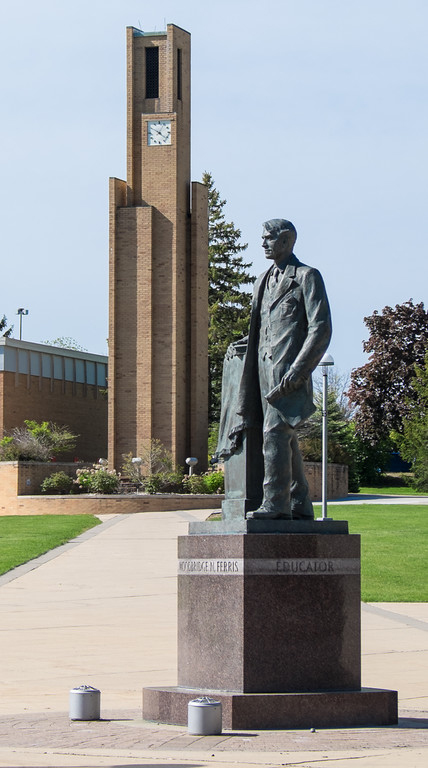 More than 350 middle school students are expected to participate in the FIRST (For Inspiration and Recognition of Science and Technology) Tech Challenge on Nov. 4 and 5 at Ferris State University's Wink Arena.
Approximately 25 student teams, comprised of roughly 15 students each, will come from around the state to go head-to-head against other teams in a competition where they are expected to design, build, program and operate robots. Additionally, leading up to the competitions, teams are expected to raise funds, design and market their team brand, and do community outreach.
Steve Parker, a Ferris alumnus who serves as a FIRST mentor, initiated a conversation with Ferris during the spring semester of 2015 in an effort to get the university more involved.
"FIRST Robotics is more than building a robot, it teaches a number of skills that are not just engineering," said Parker. "The positive impact on FIRST Robotics competition participants is gratifying and well documented."
In fact, according to Firstinspires.org, 86 percent of middle school students who participate in FIRST Tech Challenges are more interested in doing well in school, 84 percent of them plan to take a more challenging math or science course, and 87 percent of them are more interested in going to college. These statistics only increase when looking at high school students who participate in FIRST Robotics Competitions.
Although Ferris State has never hosted a FIRST Tech Challenge before, the university has many ties to the FIRST Robotics program. In addition to the numerous science, technology, engineering, and mathematics-related (STEM) registered student organizations (RSOs), such as the Institute for Electrical and Electronic Engineers and the FIRST Robotics RSO, among others, the university has a number of students involved in guiding and mentoring surrounding community teams.
Students involved in the FIRST Robotics RSO at Ferris act as mentors to local teams at Big Rapids High School, Crossroads Charter Academy and St. Mary Catholic School. They mentor students at the high school, middle school and elementary school levels. Further, Ferris has offered scholarships for FIRST students throughout the past several years, demonstrating an emphasis on the importance and impact of the FIRST program.
"Although these are middle school students attending this week's event, they will be looking for college in a few years. They are not only STEM-minded students, but also need to have managerial and financial skills," said Gary Todd, electrical/electronics engineering technology and computer networks and systems program coordinator, Ferris. "This means they are interested in what Ferris has to offer in most colleges. We hope to continue hosting events through the high school FIRST Robotics Challenge, and continue their exposure to Ferris. Getting them to campus as many times as possible helps them to make an informed decision when the time for college arrives."
FIRST Robotics competitions are held throughout the state, and are separated into district, regional and state competitions. The state competition often attracts 1,500 students and parents. This weekend's event is a qualifying tournament, which means teams will compete for positions at championship tournaments later in the season.
"Just middle school students will be competing here this weekend; however, if all goes well, we would like to see at least pre-season high school FIRST competitions (FRC) held here. The actual FRC competitions are scheduled far in advance," said Todd. "We may be able to get an actual competition; however, it will take some time to show that we are up to the job. That is another reason this weekend's event is so important."
The FIRST program was created by Segway inventor Dean Kamen, and was designed to get students engaged with STEM-related topics. FIRST is recognized as the leading, not-for-profit STEM engagement program for kids worldwide, according to Firstinspires.org. While the organization's focus is on STEM education, students are building skills that are applicable to a variety of STEM and non-STEM related careers.
Sponsored by St. Mary Catholic School, the pre-season competition is free and open to the public. Setup for the event at Ferris State University will be held on Friday, Nov. 4 from 7-10 p.m. There will be judge interviews on Saturday, Nov. 5 at 7:40 a.m., followed by the Opening Ceremony at 10:30 a.m. The event is expect to last until 5 or 6 p.m.
Volunteers are needed for setup on Friday night, in addition to during Saturday's event and for teardown on Saturday night. Anyone interested in volunteering should contact Mr. Watters, St. Mary principal and event organizer, at [email protected] or (231) 796-6731.