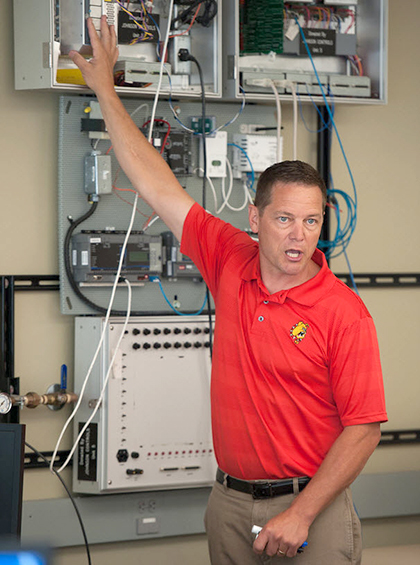 A variety of instructors and professionals in the Heating, Ventilation, Air Conditioning and Refrigeration field will offer technical sessions, and a perspective on Ferris State University's top-flight Bachelor of Science degree program, Aug. 1-3, at the Granger Center for Construction and HVACR in Big Rapids.
The Regional Instructor Workshop will offer six sessions on Tuesday, Aug. 2 and four sessions Wednesday, Aug. 3, along with speakers during the daily luncheon. Those attending the workshop will also enjoy opportunities to network with fellow instructors, and visit with exhibitors from the HVACR industry.
Some of the subjects to be covered in the technical sessions include "Bypass Options with Forced Air Systems," "Compressor Modulation Technology and Regulations," and "Technology in the HVAC Classroom." Doug Zentz, Ferris' HVACR program coordinator, said that Kitty Manley, a professor in Ferris' Career and Technical Education program, will offer the workshop's keynote address, and "A Sharper Focus on Technical Workers in the HVACR Industry," an educational workshop, on Wednesday afternoon.
"This is all about broadening the professional development of vocational education instructors who work with high schoolers, or at the community college level," Zentz said. "Many of them come from smaller schools. Our program endowment provides support for this workshop, so registration costs are kept at a minimum. Kitty Manley is a specialist in this field, so her expertise and observations will be an asset to these instructors."
Zentz said that this is the first workshop offered by the HVACR program since 2006.
"We hope the instructors benefit from this workshop and pass along what they learn to their students," Zentz said. "About 60 percent of our Bachelor of Science students in HVACR Engineering Technology and Energy Management transfer to Ferris for the program. So we hope these teachers are impressed with what is available here."


PHOTO CAPTION: Ferris State University's Granger Center for Construction and HVACR will host an Instructor Workshop Monday, Aug. 1 through Wednesday, Aug. 3. This is the third workshop offered to high school and community college instructors at the Granger Center, the last was in 2006.