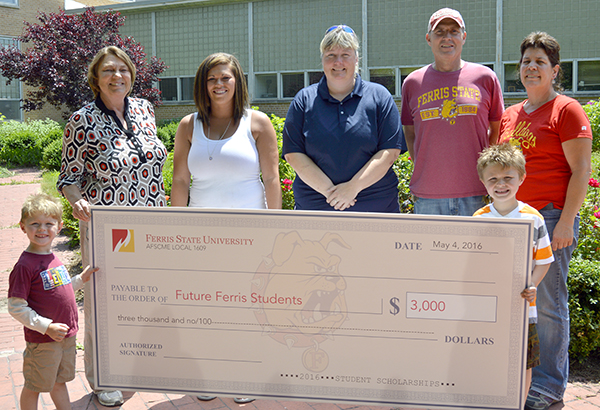 PHOTO CAPTION: AFSCME/AFL-CIO Local 1609 has awarded $3,000 in scholarships to attend Ferris State University for high school graduates in Mecosta and southern Osceola Counties. Among those making the presentation recently were (from back left: Julie Modene, Kalee Lenahan, Tammy Spring, Gary Chesebro and Sandy Paul. From front left: Kalee's sons Braxton Warner and Brodie Warner.)

Graduates of Mecosta County and southern Osceola County high schools have been awarded a total of $3,000 in scholarships to help fund their tuition, or other related expenses to attend Ferris State University.
The American Federation of State, County and Municipal Employees and American Federation of Labor-Congress of Industrialized Organizations Local 1609 announced that administrators from the Big Rapids, Morley Stanwood, Chippewa Hills, Reed City and Evart public schools districts, as well as Crossroads Charter Academy, in Big Rapids, selected qualifying students to receive a one-time, $500 award. Union officials indicated their motivation in making these awards is to help these high school graduates achieve their dreams of higher education.
The scholarship program was established in 2007 and the amount awarded, by Local 1609, has tripled since it started.