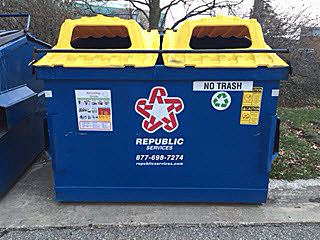 Ferris State University's students, staff and faculty will be encouraged to use any of 11 recycling containers that were recently placed near residence halls and other areas of campus.
The university's manager of Custodial Services, Rafael Dominguez, said that each of these six-yard containers has been situated alongside dumpster units, in locations where two trash receptacles had been previously been placed side by side. The containers have locking yellow lids on top, so users load comingled, or single-stream recyclable items individually, rather than discard large bags of items.
"The two units that have found good use so far are in Cramer Circle and Travis Circle," Dominguez said.
Other containers established near residence halls include…
South Bond Hall
South Henderson Hall
Puterbaugh Hall
Lot 3 Northwest
Lot 39 South
Lot 40 South
North lot near the Rock Café


Dominguez said that the recycling containers that are available in academic areas were placed in Lot 37, and near the Hagerman Pharmacy Building. The university's waste services contractor began delivery of these containers at the start of the fall semester.
There are also five 20-yard recycling containers that resemble birdhouses, which have hinged lids to accommodate larger loads of comingled materials. They can be found near:
East Campus Suites
West Campus Community
Michigan College of Optometry
Rock Café
University Center


Students living in residence halls, and all others on campus are welcome to place appropriate items in these containers. There are decals on the 6-yard containers that identify what materials can be recycled. Dominguez said Ferris' Office of Residential Life is supportive of the effort to reduce the amount of waste taken to landfills.
"Resident assistants are taking the initiative to encourage student participation," Dominguez said.
An Environmental Sustainability Task Force has been established by the university, and Dominguez is a member of that group. He said the availability of these containers should be promoted to the campus community, as task force members voiced concerns that there is a lack of opportunity to recycle a variety of appropriate materials.
"This (development) is fresh to them, the lack of awareness is really not anyone's fault," Dominguez said.
With regard to the cost of processing the university's trash and recyclables, Dominguez said his research indicated a change in disposal practices would produce no great budget savings. His does believe that Ferris' core values of ethical community, learning, and opportunity are exemplified by promoting awareness of, and participation in, campus recycling.
"I was able to find that about $200,000 worth of funding was expended toward trash removal on this campus," Dominguez said. "About 7 percent of it went to recycling. If we can realize potential of our efforts, I am sure in a short period of time, we can at least take that to at least 50 percent recycle, 50 percent trash and be doing our part to sustain."
PHOTO CAPTION: Eleven containers have been placed on the Ferris State University campus since the start of the Fall 2015 semester. These units are situated alongside trash receptacles, and the majority of the yellow-topped containers have been placed near residence halls.
Last updated: 01-11-2016