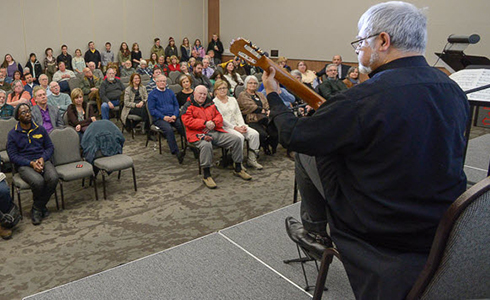 VIDEO: Check out this short preview of the Festival of the Arts.
The ninth year of the Festival of the Arts, a collaborative effort of Ferris State University and the Big Rapids community, begins Friday, Jan. 29, and continues, daily, through Sunday, Feb. 28.
The opening reception for the 2016 Festival of the Arts begins at 6 p.m. on Friday, Jan. 29, as the Ferris Fine Arts Gallery opens their "Indie Incubator: All About the Vinyl" exhibit. Ferris and Kendall College of Art and Design students have created works in a variety of media, which are combined with a selection of covers from the university's collection of historic vinyl albums, donated by Ted Halm, the university's Web content manager.
Festival of the Arts Board of Directors Chairperson Bruce Dilg said that evening, they will also exhibit works created by Ferris Honors Program students in the University Center Ballroom.
"Honors students being part of the opening ceremonies is pretty exciting," Dilg said. "It really has come together, we have more participation in this year's festival from campus groups and individuals than ever before."
A variety of participatory events are found on the festival schedule, and Dilg said that anyone with an interest in a particular offering should not hesitate to sign up for their choice.
"Many events are done year after year, like Ferris Associate Professor Dave Murray's welding workshop for artists, and they sell out," Dilg said. "We've tried to expand the participatory events, to help people see where they may have an interest."
Dilg hopes that those in the Ferris and Big Rapids communities take time to review the schedule, and not dismiss themselves as prospective participants, and artists.
"People make artistic decisions all the time, in the color of clothes that they wear, in the choice of car they drive," Dilg said. "They may not think of it as active art, but it is."
Some festival events are designed to nurture the arts in various age groups, such as the Wee Wonders Art Workshop for Toddlers and Parents scheduled for Saturday mornings throughout the month of February. Adriana Mallett will lead four sessions for children 3 to 5 years old, and their adult companions.
Individuals and groups will be welcome to participate in an ecumenical choir concert Saturday, Feb. 27 at the First United Methodist Church, 304 Elm St. Dilg said those who participate are asked to arrive for rehearsal at 1 p.m., to prepare for the 4 p.m. concert.
"Several churches will bring their choirs, but we've made a point of telling people who like to sing that they can get involved."
Also that evening, five participants in "The Art of Comedy" will make their stand-up debuts at Cranker's Restaurant and Brewery, 213 South State St. in a 7 p.m. show. Professional comedian and entertainer Bill Gorgo will follow his students to the microphone that night.
"I'm interested to see how this new event turns out," Dilg said. "Two days of training will go into this opportunity for the first five people who sign up."
Dilg said on Friday, Feb. 19, and Sat. Feb. 20 they will present an opportunity to experience flamenco dancing visually, then return to learn the basic movements and footwork in a morning workshop. Both events, led by Companeros de Flamenco will be held at Artworks, 106 North Michigan Ave.
"They can come down Saturday morning and learn about, and participate in what they've seen," Dilg said.
There are 12 genres of art represented in the festival, and the opportunities to participate include the "National Sew Day" Saturday, Feb. 6 from 9 a.m. to 6 p.m. in The Old Jail, 220 South Stewart St. in Big Rapids. Local veterans will receive the "Quilts of Honor" Sunday, Feb. 28 as part of the festival's closing ceremony at Artworks in downtown Big Rapids.
More than 70 events will take place during the 2016 Festival of the Arts, with schedule booklets available throughout the community. .
PHOTO CAPTION: A musical performance during the 2015 Festival of the Arts was enjoyed by an audience on the Ferris State campus. There are nearly two dozen musical performances on this year's schedule.
Last updated: 01-27-2016