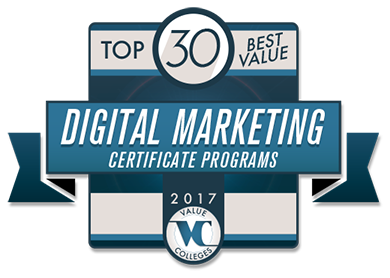 Ferris State University's Digital Marketing certificate program has been ranked by the online education guide, ValueColleges.com, in the top 30, for 2017, in the instruction of business-to-business, or direct marketing practices.
Ferris had initially named this program "E-Commerce Marketing," according to Susan Jones, a Marketing professor and Digital Marketing advisor.
"Our program advisory board suggested that it would be more appropriate to identify the certificate program as Digital Marketing," Jones said. "There is a high demand for these classes, particularly among Ferris outstate students. They are looking for elective classes at the 300 level, as part of their Bachelor of Science in Business Administration."
Value Colleges said the metrics used to comprise this ranking include program reputability, based on the school's overall score offered by U.S. News and World Report, College Scorecard data regarding the return on investment in the training and the cost to complete this training through online instruction. Jones said the College of Business will annually rotate the Digital Marketing certificate instruction between face-to-face classwork, and online learning.
"Our College of Business dean, David Nicol, was very supportive of allowing the certificate to be completed with online-only instruction," Jones said. "That is quite unique in scope for higher education."
To complete the 12 credits necessary for the certificate, students will take three-credit courses in Business-to-Business, Consumer Digital Marketing and general Marketing principles. Jones said the opportunity to concentrate on Business-to-Business Advertising, or Direct Marketing is offered through the elective required to complete the certificate requirement.
"I have been involved in teaching this curriculum for several years," Jones said. "The growth in business-to-business marketing in recent years has made acquiring these cutting-edge skills essential for those seeking careers in professional sales, advertising, as well as direct marketing."


PHOTO CAPTION: ValueColleges.com, an online guide to the best values in undergraduate and graduate education, listed Ferris State University among the institutions in their Top 30 Best Value Digital Marketing Certificates for 2017.