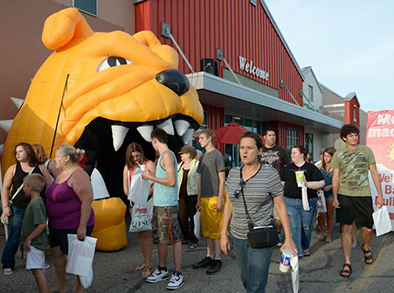 Before the fall semester begins, at Ferris State University, students can take advantage of the annual Meijer Mania event, set for the evening of Saturday, Aug. 27.
Meijer Mania begins at 7 p.m., and continues to 10 p.m. that evening. Bulldog Beginnings committee co-chair Lisa Ortiz said there will be shuttle bus transportation available from campus to the Big Rapids Meijer, which is located at 15400 Waldron Way near Perry Avenue.
"There will be discounts available for Ferris students, giveaways and other special events," said Ortiz, Ferris' assistant director of residential programs and services. "It will also be a good opportunity for Bulldog fans to pick up Ferris pride gear."
Shuttles will pick up students every 15 to 20 minutes, and a handicapped accessible bus will be available. For more information, the Big Rapids Meijer store's phone number is (231) 527-0200.

PHOTO CAPTION: Ferris State University students take advantage of the giveaways and deals at Meijer Mania, an annual element of the Bulldog Beginnings welcoming events as the academic year begins. This year's Meijer Mania will be held Saturday, Aug. 27.