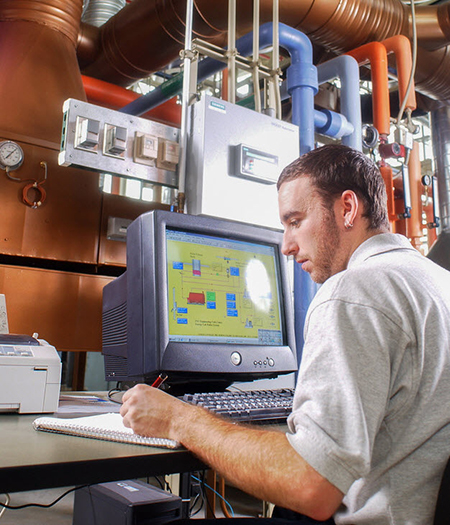 Heating, Ventilation, Air Conditioning and Refrigeration students from Ferris State University will be honored by the American Society of Heating, Refrigerating and Air Conditioning Engineers at their Winter 2017 conference.
A team of Anis Andrawes, from Lansing; Trevor Boyle, from N. Attleboro, Mass.; Yoginder Rana, of Lindsay, Calif.; Remus Roman, from Woodside, N.Y.; Martial Tsoungui, of Big Rapids; and Zachary Wirth from Grand Blanc, placed third in the 2016 International System Selection competition. Mike Korcal, Ferris' ASHRAE project adviser and an associate professor in HVACR, said that this team was a group of seniors who chose to collaborate on their entry, as a capstone to their Bachelor of Science in HVACR Engineering Technology studies.
"It's a lot more work. They have to do a sales presentation as part of the competition, which is beyond our requirements," Korcal said. "They were given a raw set of plans for a social and emergency services building in Beijing, China."
Korcal said that what makes the team's performance more remarkable is that while the project information is released each summer, Ferris' team begins work months later, as part of their studies in HVAC 499 in the spring semester. The students are required to determine a building operational plan for each room, and complete lifecycle costing, making a recommendation on the best of three systems.
"They have to meet a deadline in the first week of May, so by the start of April, they're pretty exasperated by the work involved," Korcal said. "They have to factor in how the climate influences their system choices, and include the impact of Chinese currency on project costs."
The Ferris team that participated in the ASHRAE competition had to advance with a victory in Region 5, which includes chapters in Michigan, Ohio and Indiana. Korcal said that their work is then judged against entries from 13 regions, as well as a field of at-large global competitors.
"We've been taking part in both the equipment selection and design competition, since 1997, with nine first-place finishes, eight second-places, and four third-place results during that time," Korcal said. "It's a real good experience."


PHOTO CAPTION: HVACR students found success in the ASHRAE International System Selection Competition, as they secured a third-place finish in a field of national and international contestants.