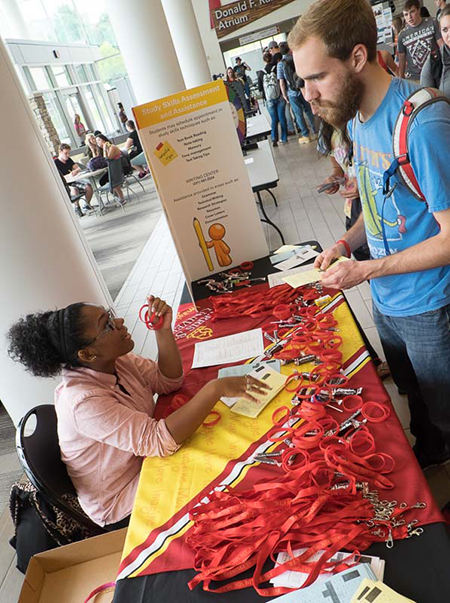 A number of new events have been added to Bulldog Beginnings, the annual schedule of activities on and around the Ferris State University campus to promote the university's core values, and to welcome students, as the 2016-17 academic year begins.
Bulldog Beginnings planning committee co-chair Lisa Ortiz said that Ferris President David Eisler will offer greetings to students during Bulldog Welcome, beginning at 7:30 p.m. Friday, Aug. 26 at Top Taggart Field.
"We often see football and volleyball players meeting other students during this event, inviting them to attend their games during the fall," said Ortiz, assistant director of residential programs and services. "The program includes a video that teaches students the Ferris fight song, helping to build Bulldog pride."
The comedian coming to perform during homecoming week will also be announced at that time.
Immediately after Bulldog Welcome, "Captain America: Civil War" will be shown in the South Quad, near The Rock Café, with entertainment sponsored by the Residence Hall Association. Ortiz said there will be other entertainment, and students should bring chairs, towels, or tarps, to assure comfortable seating.
Bulldog Beginnings Committee co-chair Nick Smith said on Saturday, Aug. 27, that they will welcome students to take in Big Rapids Beginnings, which they hope is a "new and exciting event" for first-year and returning students.
"We want them acclimated to the city, along with the businesses in the downtown area," said Smith, coordinator of activities and the Student Organization Center. "There will be transportation available between 3 and 6 p.m., though it will also be a good time to walk into the city. Businesses are planning a number of specials and giveaways during this event."
Meijer Mania will follow at 7 p.m., that night, and Smith said that a variety of in-store specials will be offered, and transportation to the store will be available from campus, to welcome students as customers.
A late night event in the University Center begins at 9 p.m., Saturday, and continues to midnight.
"We'll have free food, video games, and music," Smith said. "It's a great chance for students to meet friends, and make new ones."
Sunday, Aug. 28's activities return to the center of campus, as VIP in the UC begins at 2 p.m. Ortiz said throughout that day, resident advisors will be offering activities in their halls.
"It's a social opportunity to meet other students," Ortiz said. "There might be a Pokemon hunt, while students get familiar with each other."
Monday, Aug. 29 finds First Impressions tents staffed across campus, to offer information to students with questions. The first day of Fall 2016 semester classes is followed by Rec Fest, beginning at 5 p.m. in the Student Recreation Center.
"Recreation Director Cindy Horn welcomes students to get familiar with the center, along with opportunities to participate in intramural and club sports," Smith said. "There will be free giveaways, and other activities."
From 9 a.m. to 3 p.m. Tuesday, Aug. 30, there will be a Social Fest Snapchat Challenge, with filters for various campus locations. Smith noted that the Throwback Time Machine starts at 9 p.m.
"Entertainment Unlimited has had a variety of activities through the years. This year, they're offering a video mix on the Quad, with music from the beginning of Pop, to the modern era," Smith said. "It's the first event on the EU schedule for the year."
Wednesday, Aug. 31 finds the Academic Support Center Open House, from 8:30 a.m. to 5:30 p.m. The event is an opportunity to visit their enhanced facility in the Arts, Sciences and Education Complex. Smith said the Center for Leadership, Activities and Career Services is set to host a Campus Beautification Project, with projects available from 9 a.m. to 6 p.m.
"It makes sense, and speaks to the university's core values, to hold a service project at this time," Smith said. "There will not be a large time commitment, just a chance to see, and support the campus community."
A variety of activities will be held Thursday, Sept. 1, Ferris' Founders' Day. Smith said that Top Taggart Field will be the site of women's soccer and football games that afternoon and evening, respectively. Students are admitted free to these games when they show their Ferris ID. Following the football game, against Ohio Dominican, Smith said that there will be a Fifth Quarter celebration.
"We'll have a DJ, a number of giveaways, and free food," Smith said. "Students and those at the game will be able to dance on Top Taggart Field, as soon as game activities are completed."
Friday, Sept. 2 will see indoor disc golf in the FLITE Library, Smith said that event will take place from 2 to 4 p.m.
"It is a fun way to expose students to the resources throughout the building," Smith said.
Students will also be able to exchange high school T-shirts, and those from other schools that day at volleyball games in the Ewigleben Sports Complex, and the exchange continues Saturday, Sept. 3.
Bulldog Beginnings concludes Sunday, Sep. 4, with a T-shirt exchange at Top Taggart Field, where the women's soccer team hosts St. Joseph's.
Details on the events listed, and others in Bulldog Beginnings are available online.