Ferris State University faculty, staff and students come from all over the world with one thing in common- Ferris as ultimately their No. 1 choice. In the Ferris First series, we chat with members of the University community to learn more from them about why Ferris was their No. 1 choice.
They all have a story. Here, we tell part of that story. Meet: Alexis Lambert: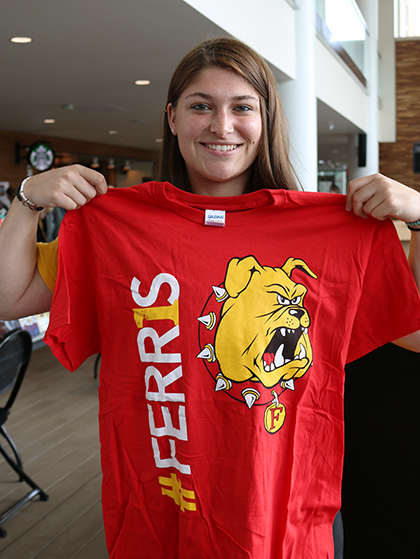 She is: A junior in the Pre-Dental Hygiene program from Ellsworth, Mich.
What do you like most about campus and your academic major? Alexis enjoys the campus, and the salary she will get once she has completed Dental Hygiene.
How is Ferris preparing you for your future? Alexis credited her Ferris experience, thus far, with helping prepare her for what she hopes will be a successful career.
Why should Ferris be a top choice for others? "Ferris has a great campus and great programs," Alexis said, enthusiastically. The general atmosphere, at Ferris, has been a pleasant experience.
Why is the best part about being at Ferris? Being around all of the great people that attend school here as well.
Why was Ferris your number one choice? Alexis made Ferris her No. 1 choice because of the University's unique and hands-on Dental Hygiene program.