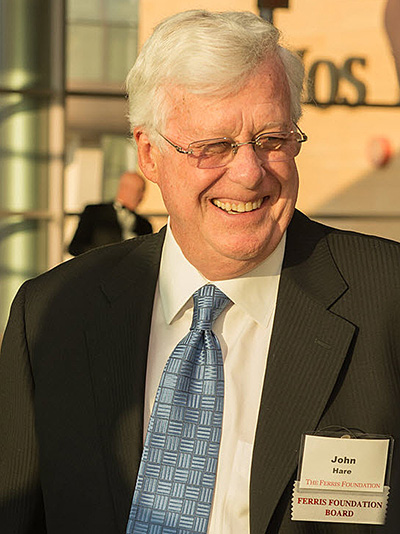 VIDEO: Previewing The Ferris Foundation Benefit on Nov. 6 at DeVos Place in Grand Rapids.
Students, faculty and staff of Ferris State University will join with a variety of corporate and individual supporters Friday, Nov. 6, as The Ferris Foundation for Excellence holds its 17th annual Benefit in the Steelcase Ballroom of the DeVos Place Convention Center.
Ferris President David Eisler will be master of ceremonies for the event, which will introduce the audience to a variety of The Ferris Foundation for Excellence scholarship recipients. Eisler's presentation will also highlight faculty and staff who have received Exceptional Merit Grant awards, which support their exploration, study and service.
The Ferris Foundation Executive Director Carla Miller said that these programs, and the tributes offered at the Benefit are needed "now, more than ever," as the event is among the most important points on the university's calendar.
"What a great evening to spend with friends of the university, and those students who are in attendance," Miller said. "We encourage everyone to participate this very meaningful event, and support this great university."
The Ferris Foundation Board of Directors will meet prior to the Benefit, to welcome new members and complete a transition of leadership. John Hare, chair of the board's development committee, will attend his first Benefit as Foundation board chair. Hare said that the event will help achieve equally important goals.
"It transcends the raising of money," Hare said. "It's good for building a positive perception of Ferris, including its students. Raising money for scholarships and grants, though, is extremely important."
The Benefit will begin at 5:30 p.m. with a cocktail reception for sponsors, and the evening program will start at 7 p.m. with dinner. The author of the new book "Finding A Way," legendary distance swimmer Diana Nyad will deliver the keynote address at 8:30 p.m.
PHOTO CAPTION: John Hare, Chairman-Elect of The Ferris Foundation Board of Directors is among the hundreds of alumni, students and Ferris State University supporters expected to attend the 17th annual Ferris Foundation for Excellence Benefit Friday, Nov. 6 at the DeVos Place Convention Center in Grand Rapids, Mich.