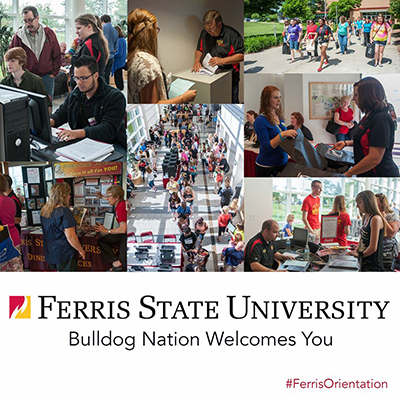 Not all that long ago, Big Rapids had appeared to be a bit ghostly until the hustle-and-bustle of orientation began on Monday, June 15. Campus students, faculty and staff, as well as the community tend to present their Bulldog pride during this time of year to add hype for the future Bulldogs.
Incoming and transfer students are given the opportunity to experience Ferris' campus through an orientation seminar the summer before fall classes begin. These orientations help familiarize students with their new home-away-from-home.
Students can not only become acquainted through the physical tours, but also virtually. Ferris has found a way to stay connected with attendees before, during and after the orientation process via #FerrisOrientation (especially on Twitter). Using this hashtag allows for the participants to share their orientation experience, find out possible campus events and develop potential social circles.
Our generation is a virtual generation and we tend to document every one of our moves on the internet. This is a more convenient way to start building memories, friendships and Ferris knowledge through being connected on social media platforms.

This blog was co-produced by Kaitlyn "KP" Patrick and Jordan House, News Services and Social Media student staff writers and social media correspondents.
Anyone with questions about social media, at Ferris, can write us at [email protected].