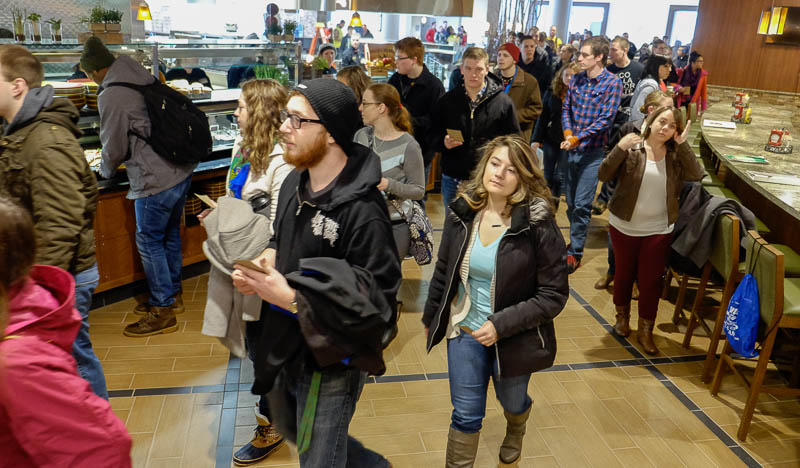 Students returned for the Spring 2015 semester at Ferris State University. University-announced enrollment figures have 14,146 students at Ferris this spring and 9,618 on main campus.
Ferris State University has announced that its Spring 2015 overall enrollment stands at 14,146 students – including 9,618 on its main campus in Big Rapids.
This spring's enrollment is up by 143 students from one year ago. Main campus enrollment has increased by 133 students while the number of students taking online courses is up slightly, by 42. Kristen Salomonson, dean of Enrollment Services, noted the attraction that students continue to have to Ferris, academically and socially, in her evaluation of Ferris' overall spring-to-spring enrollment gains.
"Our enrollment numbers for Spring 2015 are solid. We are pleased that students seek out our high-quality educational experience and vibrant student life," Salomonson said. "Innovative academic programs, enhanced financial aid and robust recruitment efforts are all part of the success. We continue to implement creative recruitment practices, enhance our visit experience and refine our financial aid processes to drive future enrollment."
This semester's enrollment figures further reflect an increase in student credit hours taken, by 331.5 – including a 1,450-hour increase in students taking online courses.
Jeanine Ward-Roof, vice president for Student Affairs, also noted gains that the university has experienced related to the diversity of its student population. Since last spring's numbers were announced, Ferris has had student population increases in international, by 104; Hispanic, by 56; and students identified as being of two or more races, by 39. Piram Prakasam, director of the Office of International Education, noted diversified recruiting efforts targeted at specific countries, improvements in the international admissions process and greater university-wide collaboration as factors in the increase in international students enrolled. The university's white student enrollment increased by 22 from Spring 2015.
"We are pleased to welcome our new students to Ferris and excited about the diversity all of our students bring to the institution," said Ward-Roof of Ferris' 24-percent increase in international students, 11 percent in Hispanic students and 10 percent in students of two or more races.
Salomonson further noted Ferris' ability to adapt its recruitment to changing demographics.
"As our demographics continue to shift, it is important that our University reflect the growing diversity of Michigan and the Midwest region," she said. "We are excited that our efforts to recruit students from all backgrounds has fostered an increasingly diverse population at Ferris."
Among academic colleges, Engineering Technology has increased by 110 students while Arts, Sciences and Education is up by 39. Kendall College of Art and Design's enrollment is relatively flat from last spring's number – up by three students. KCAD has 1,372 students enrolled this spring on its campus. Enrollment in other academic colleges remained relatively flat with mostly small decreases.
Enrollment for the Fall 2014 term was 14,600 students, overall, and 9,957 on main campus. For the full story of fall enrollment, click here. More than 1,000 students graduated during commencement in December 2014. Click here for the commencement preview story.
Ferris is a four-year public university with campuses in Big Rapids, Grand Rapids and satellite campuses throughout Michigan. Ferris offers more than 180 educational programs, including doctorates, master's, bachelor's and associate degrees, through eight academic colleges: Arts, Sciences and Education, Business, Education and Human Services, Engineering Technology, Health Professions, Kendall College of Art and Design, Michigan College of Optometry and Pharmacy.