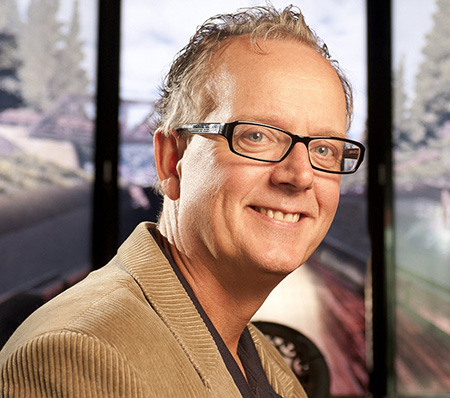 PROGRAM SPOTLIGHT VIDEO: Digital Animation and Game Design
GRAND RAPIDS, Mich. – The excellence of Ferris State University's Digital Animation and Game Design program has once again been recognized by the Princeton Review.
DAGD Program Coordinator David Baker said that placing 16th in the top undergraduate schools for video game design rankings for the 2015-16 academic year represents steady improvement, following two "Honorable Mention" awards and a 25th-place selection in recent years.
"It means we're being recognized as a serious program that has a good academic record, and has quality instruction and pedagogy behind it," he said.
Baker added that the prestigious Massachusetts Institute of Technology is 14th in this year's report, and in general, "being invited to the party is pretty good."
The significance of this accomplishment grows as more community colleges, four-year schools and universities worldwide develop their own programs. Baker said that the number is hard to define, but he assures there are at least 250 and could be up to 400. Ferris' DAGD curriculum has been revised four times since the program's inception in 2004, a continuing effort to expose students to emerging trends and technologies.
"Ferris got in at the right time and was able to build on some good, established models," Baker said.
While the DAGD program had its beginnings on the Ferris State University-Grand Rapids campus, there is now a full cohort of classes in Big Rapids. Graduates of the program have taken leadership roles in the industry, and current students can post their work on Facebook sites where alumni offer critiques and provide job leads. Baker said that support from these industry professionals boosts the level of instruction and learning, and their involvement is vital to maintain and improve upon the program's stature.
"There's always an effort, not unlike being in the car racing business," he said. "It's a challenge we like."
Baker added that the program's societal impact has great implications – a point that they make clear to students and their parents.
"One thing they need to know is that this is a real degree," he said. "It's not just about video games, it's about the gamification of the industry. So many groups are looking at video games as a solution for training, for marketing and selling. It's about working at helping people learn."
Other Michigan schools included in the top undergraduate schools for video game design rankings include Michigan State University and Lawrence Tech University.
The Princeton Review, one of the best known education services companies in the U.S., is not affiliated with Princeton University.
Pictured is David Baker, program coordinator for Digital Animation and Game Design.