Ferris State University faculty, staff and students come from all over the world with one thing in common – Ferris as ultimately their No. 1 choice. In the Ferris First series, we chat with members of the University community to learn more from them about why Ferris was their No. 1 choice.
They all have a story. Here, we tell part of that story. Meet: Sabrina Nichell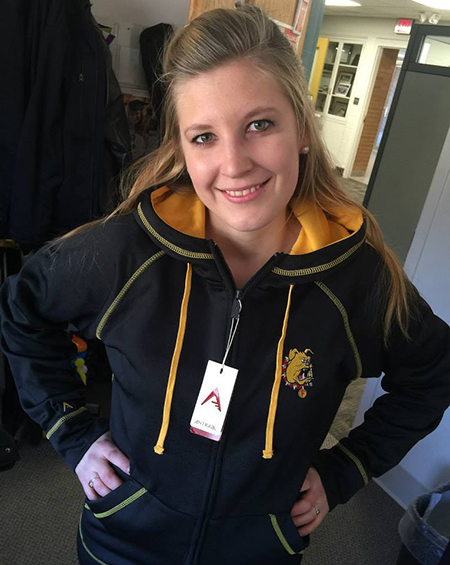 She is: a Ferris State University International Business major from Isny, Germany, who is in the second semester of her exchange year.
How did you find out about Ferris? Ferris has a partner relationship with her university back in Germany.
What made Ferris your top choice in the end? "I have always wanted to live in the U.S.," Sabrina said. "When I learned about the opportunity to go and study abroad, I chose Ferris because it offers classes in my field. A friend of mine has been to Ferris before and he told me to go."
What do you love about Ferris? "Even as Big Rapids is a small town, Ferris has a big campus," Sabrina said. "I like that it is easy to get involved on campus with other people. There are many events offered from Ferris, which are good for socializing and learning."
What do you enjoy about your academic major? Sabrina indicated that she likes the small class sizes and that the classes are interactive which makes it easier for her to study.
What student organizations are you involved in, and why? "I am involved in the International Student Organization," Sabrina said. "I got involved to get to know other international students on campus. I am also involved in AIESEC to promote going abroad."
AIESEC is "is an entirely youth-led not-for-profit organization present in over 125 countries and territories, and active since 1948. We provide young people with the opportunity to grow and learn in an exciting new environment, undertaking enriching cross-cultural experiences while having a positive impact on world and developing relevant skills for their future careers. We do not discriminate and we are non-political. We firmly stand for our own vision for the world: peace and the fulfillment of humankind's potential." Read more about AIESEC, here.
How is Ferris preparing you for your future? "Ferris is preparing me for my future by having me work on real-life projects," Sabrina said. "That makes everything more practical."

Why should Ferris be a top choice for others? "Ferris has a high variety of study courses to select from and the University is very organized," Sabrina said.
What do you like best about being at Ferris?
The students that you get to meet
Big Rapids is a typically American small town
You have the opportunity to develop yourself in a new place