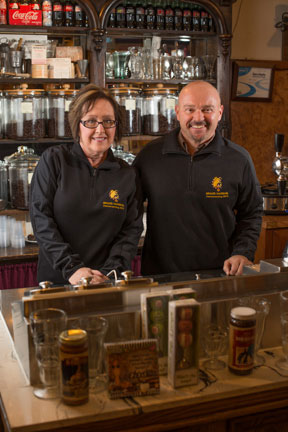 VIDEO: Interview with Brian and Carlleen Rose, 2013 Homecoming Grand Marshals
Brian and Carlleen Rose, longtime champions for the Big Rapids community who help fuel its strong relationship with Ferris State University, will serve as grand marshals for Homecoming 2013.

The Roses, who own Kilwins Chocolates and The Old Pioneer Store and Emporium in downtown Big Rapids, were selected by the university's homecoming committee for the honorary distinction. As grand marshals, the couple will attend several events during the weeklong celebration that begins Sunday, Sept. 29.
"Carlleen and Brian were selected for their commitment to advancing the relationship between the local community and Ferris," said Jeremy Mishler, director of Alumni Relations and Advancement Operations. "They are outstanding community and Ferris advocates."
The Roses are thrilled by the recognition.
"We have worked hard to make sure the Ferris community and the Big Rapids community are on the same page, so it's an honor to be thought of," Brian said.
"It's an unbelievable honor," added Carlleen, whose local roots run deep.
The Big Rapids native has followed in the footsteps of her father, the late Carl Schuberg, a businessman, entrepreneur, civic leader and community philanthropist. She has been a local business owner for more than 30 years and active in several community organizations.
That includes the Big Rapids Housing Commission, which Schuberg started and Carlleen now serves on as vice president.
"That's one of the things I'm really proud of," said Carlleen, who often attended Bulldog football games with her father.
Her community efforts extend to service on various committees and organizations, including the Downtown Business Association, Downtown Development Authority and the Band of Locals, an initiative of the Mecosta County Chamber of Commerce. She serves as president of the group that encourages consumers to buy local first.
Carlleen also is an active member of Town Gown, an organization of city, school and university representatives who work to ensure each other's success.
Her personal association with Ferris began when her family rented rooms in her childhood home to students. Her daughters, Tracy and Jill, are Ferris graduates, and Jill often sang the National Anthem at Ferris football games.
"I've been married to Ferris for a long time," Carlleen said.
She and Brian have employed students for as long as they've owned their business, a unique gift shop that offers many Michigan-made products and Kilwins ice cream and candy. It features an old fashioned soda fountain and vintage apothecary shelves salvaged from a local drug store that operated in the 1800s.
The store is a popular destination for Ferris students, faculty and staff, family gatherings, school trips, ice cream dates and alumni reunions, particularly during the university's homecoming weekend.
"We're very proud to live and work in this community," Carlleen said.
The university will mark its annual tradition of bringing the Ferris and Big Rapids communities together for a full slate of school-spirit-boosting events that begin Sunday, Sept. 29 and wrap up Saturday, Oct. 5.
The Roses plan to attend Wednesday night's bonfire and will ride in the homecoming parade at noon Saturday in downtown Big Rapids before attending the football game at 2 p.m. at Top Taggart Field. For more information on homecoming week events, visit https://ferris.edu/alumni/Homecoming/.