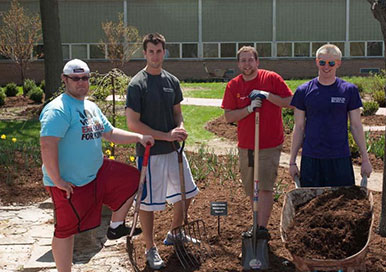 A group of Sigma Pi fraternity brothers put on their work gloves to freshen up Helen's Garden on Ferris State University's Big Rapids campus on Thursday, May 2.
"Cleaning up the garden is a way for Sigma Pi to give back to the Ferris community," said Eric McCuaig, a senior in Automotive Management from Ann Arbor, of the garden named in honor of educator Helen Gillespie Ferris, wife of founder Woodbridge Ferris. "Ferris really treasures this garden as well as who and what it represents."
Sigma Pi has helped clean up the garden for the past year. The organization's commitment to the garden's upkeep is part of the chapter's philanthropic efforts. McCuaig was joined in the effort by, among others, brothers A.J. Buckman, a senior from Kingsford; Chris Dennis, a senior from Midland; and Tyler Johnson, a sophomore from Chesterfield.
The area, symbolizing Helen's love for gardening, was full of lifeless plants and old leaves from the winter season. Thanks to help from Sigma Pi laying down mulch, digging out weeds, and planting new vegetation, Helen's Garden is blossoming with life again.
The garden features flowers and plants that Helen loved, such as Lily of the Valley, hydrangeas, dwarf crabapples, lilacs, irises, roses and boxwood shrubs. Located between the north sides of the Alumni and Prakken buildings, it was completed in October 2010 after several months of planning.