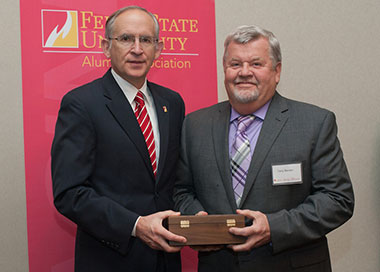 Terry Berden, CEO of Great Lakes Stainless, Inc. in Traverse City, has received the Ferris State University Distinguished Alumnus Award.
Berden, a 1973 graduate of the university's College of Engineering Technology, earned an associate's degree in Heavy Equipment Technology. He was honored during the Ferris Alumni Association's annual spring reunion in May at the Holiday Inn Hotel and Conference Center in Big Rapids.
The association's tradition of recognizing outstanding graduates is an important one, said Jeremy Mishler, director of Alumni Relations.
"This recognition helps to highlight wonderful examples of lifetime career and community service success and fulfillment that our students and fellow graduates can aspire to and be proud of," Mishler said. "It also helps keep our leading alumni connected to the university's faculty and administration in a way that supports Ferris through their expertise, professional networks and personal philanthropy."
Berden said he was "stunned" by the recognition.
"I am humbled by this honor," he said. "I hope this will tell the story to all that caring about people really does matter and will rebuild our country to its former greatness."
Berden has made a profound and positive impact in and around Traverse City, where he has lived for nearly 40 years. The entrepreneur launched his first successful business, Grand Traverse Refrigeration, more than 36 years ago and a second company, Great Lakes Stainless, 20 years later. The latter, which has contributed to projects at Ferris' Rock Cafe, the Detroit Institute of Arts, Ford Field, Michigan State University and Munson Medical Center, was named one of Michigan's 50 Businesses to Watch in 2011 by Crain's Detroit Business.
In March 2012, Berden added a millwork division to Great Lakes Stainless, which created more than 12 new jobs.
Berden also partnered with a local businessman to form Healthy Energy Resources, which provides schools with a low-cost heat-exchange unit that promotes healthy classrooms while saving energy.
In addition to helping his community by creating economic opportunities through his businesses and philanthropic efforts, Berden supports many charitable organizations. He has served as a board member for Freedom Builders, which helps the disadvantaged through housing assistance projects, and for Goodwill Industries, which honored him in 2012 with the Mary Stanton Award, which recognizes an individual who personifies the spirit and mission of Goodwill. Additionally, Terry has donated time to prison ministry programs, Big Brothers Big Sisters of Northwestern Michigan, the Women's Resource Center of Grand Traverse Area and various educational institutions, including Ferris.
In January, Terry was honored by the Traverse City Area Chamber of Commerce with a Distinguished Service Award in recognition of his community service.
He lives in Traverse City with his wife, Rayma. They have three children.
The Ferris Alumni Association Board of Directors and the Distinguished Alumni Awards Committee established the Pacesetter Award in 1998. The award is designed to recognize more recently graduated alumni who, while pursuing their professional endeavors, are "setting the pace" for more recent Ferris alumni to be involved with their communities and the university.
The award is given to alumni who demonstrate leadership and service to their profession, community, service organizations and to the university. Ferris alumni who have graduated within the past 13 years are eligible for the award.