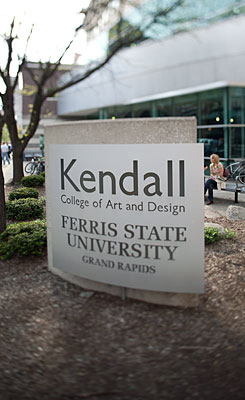 GRAND RAPIDS – Immer5e, the first phase of an educational collaboration between the Grand Rapids Public Museum, Grand Rapids Public Schools and Kendall College of Art and Design of Ferris State University, is set to launch in the fall.
The partnership provides an innovative way for teachers to use the museum to enhance school offerings and develop unique learning opportunities. Immer5e, year one of a three-year plan for an eventual "Museum School," will be open to 10 GRPS fifth grade classes for the 2013-14 school year.
The program will be loosely based on the Grand History Lesson, a week-long immersion learning program offered by the Public Museum. The pilot program, which recently completed its first year, was based on the BIG History Lesson offered by the Michigan Historical Museum in Lansing. Teachers designed their own week-long program that paired the core curriculum with new and unique learning experiences for their students at the Grand Rapids museum.
The Grand History Lesson incorporated multi-sensory, hands-on and object-based learning. The museum's collections, permanent and temporary exhibits, guided tours and programs, planetarium and learning spaces were made available for teachers to utilize. The program encouraged active learning, group participation, creative writing through observation and discussion. It was funded by the Michigan Humanities Council and DTE Energy Foundation.
GRPS fifth grade teachers interested in using the museum as their classroom for a week can apply for one of 10 openings by Friday, June 7.
Immer5e is sponsored by DTE Energy Foundation. For additional information, contact Rob Schuitema, Public Museum education manager, at (616) 929-1716 or [email protected].