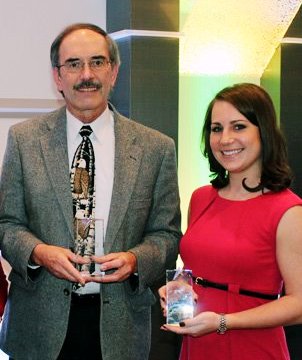 The Michigan Optometric Association has named Dr. Michael P. Keating, a professor in Ferris State University's Michigan College of Optometry, its Jack W. Bennett Optometric Educator of the Year and Alana Herron, a fourth-year MCO student from Livonia, its Student of the Year for 2012.
Keating, a Ferris faculty member for more than 30 years, also was honored as Educator of the Year in 2002. The award recognizes an MCO faculty member chosen by MCO students.
"Both the students that Dr. Keating teaches and society as a whole will reap the fruits of his labor for years to come," said MCO Associate Dean Dr. Robert Buckingham. "He is commended for going above and beyond for the students of the Michigan College of Optometry and Ferris State University."
Students selected Keating for his ability to teach geometric optics in a simple, effective and organized manner, for his dedication to their education and for his availability to help students grasp the concepts of optics, according to the MOA. Keating served as MCO Associate Dean from 1984 to 1992 and as MCO Interim Dean from 1988 to 1989 and 1990 to 1991. He received Ferris' Distinguished Teacher of the Year award in 2002.
The MOA's Student of the Year award recognizes a fourth-year MCO student who demonstrates a commitment to his or her studies and the profession.
Herron was accepted into the MCO Class of 2013 after completing three years of undergraduate studies at Ferris and earning a Bachelor of Vision Science. She is the class representative and has served as treasurer for the Michigan Optometric Student Association, secretary for the Michigan Optometric Private Practice Association and as student liaison for the College of Optometrists in Vision Development. She will graduate in May.
"Alana is an exemplary student," Buckingham said of Herron, who is completing her final optometric externship with Grand Rapids Veterans Administration Outpatient Clinic. "Her dedication and commitment to serving others reflects great credit on her and Ferris State University."
The Michigan College of Optometry prepares doctoral and post-doctoral students for successful professional careers, responsible citizenship and lifelong learning. Through its clinically-based education and patient care, the MCO serves the optometric health care needs of society. For additional information, visit https://ferris.edu/HTMLS/colleges/michopt/homepage.htm.