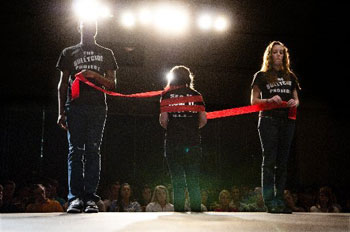 Ferris State University's Social Work Association is sponsoring The Bullycide Project on Wednesday, Feb. 29 at 6 p.m. in Williams Auditorium.
The Bullycide Project is based on a book titled "Bullycide in America" that was put together by Brenda High and written by mothers who have experienced the loss of a child to suicide as a result of excessive bullying.
"Bullying affects everyone from peers to parents in our community, and in every profession in between," said student Amanda Williamson, president of the Social Work Association at Ferris. "Bullying doesn't stop after grade school. Around 23 lives are lost a day due to this epidemic. We want people to come and learn how to become a part of the solution."
The Bullycide Project is a theatre production of character profiles of students who have been bullied. The production was created and is performed by the Trust Theatre Ensemble, a group that works to change consciousness relative to humanity, integrity, tolerance and trust. The goal of the project is to bring awareness to the issue of bullying and to show its impact on all individuals, including college students.
This event is free and open to the public through student activity fees as allocated by Student Government.
For more information about this event, contact Amanda Williamson at (231) 349-0138.